a
MADEX 2017 / Marine Week 2017 - Show News
MADEX 2017: South Korean Naval Precision Guided Munition Entering Conceptual Phase

At MADEX 2017, the International Maritime Defense Industry Exhibition currently held in Busan, South Korea, local company Poongsan is showcasing its new Gliding Guided Rocket Munition-5 (GGRM-5). The 5 inch ammunition is being developped on the company's own fund and is anticipating a likely Republic of Korea Navy (ROK Navy) future need for such naval precision guided munition.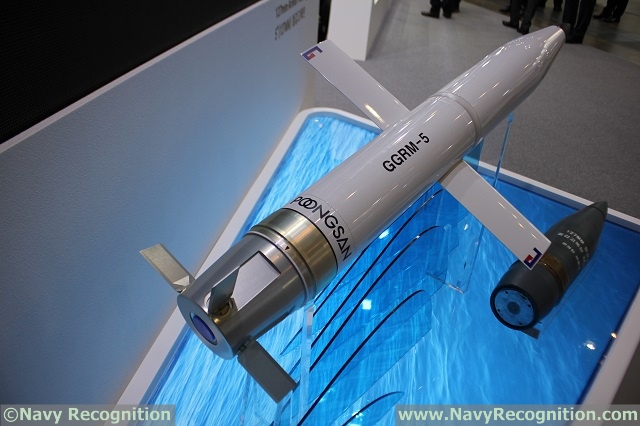 GGRM-5 on Poongsan stand at MADEX 2017.
Talking to Navy Recognition at MADEX 2017, Dae Ho Shin, senior manager, 1st developement team, at Poongsan Corporation explained that "research and development planning" start two years ago while "research and development concept phase" started this year. The company hopes to conduct the first firing tests next year and is expecting mass production to start around 2025.

The guidance system is GPS/INS. The ammunition will have range of 100 km with a circular error probable (CEP) or around 10 meters. To achieve its extended range, the GGRM-5 is fitted with a rocket motor, two wings and four stabilizers. An animated video on GGRM-5 at MADEX 2017 shows the ammunition demonstration some terrain following capabilities (probably showing that some pre programmed flight profile data can be uploaded as the round itself is unlikely to feature a terrain following radar).

Video coverage of Poongsan GGRM-5 at MADEX 2017
Dae Ho Shin explained that the philosophy of GGRM-5 relies on the High Explosive nature of the ammunition: It uses the same explosive material (and same warhead size) as the 127mm armor piercing ammunition, another recent naval artillery solution by Poongsan, also on display at MADEX 2017. It is designed to attack high value or hardened targets. GGRM-5 will be compatible with Hyundai Wia (and BAE Systems) 5 inch/64cal main naval gun systems exclusivement: The guided round would not be compatible with 127mm Oto Melara/Leonardo gun systems because they are using a shorter chamber.

With this new solution, South Korean company Poongsan is about to join BAE Systems and Oto Melera/Leonardo in the very restricted club of naval precision guided munitions developpers.