a
MADEX 2017 / Marine Week 2017 - Show News
MADEX 2017: Lacroix Next Generation Decoys the Right Solution to Protect From Emerging Threats
At MADEX 2017, the International Maritime Defense Industry Exhibition currently held in Busan, South Korea, French company Lacroix is showcasing its Sylena family of decoy launching systems along with its next generation "corner reflector" decoys.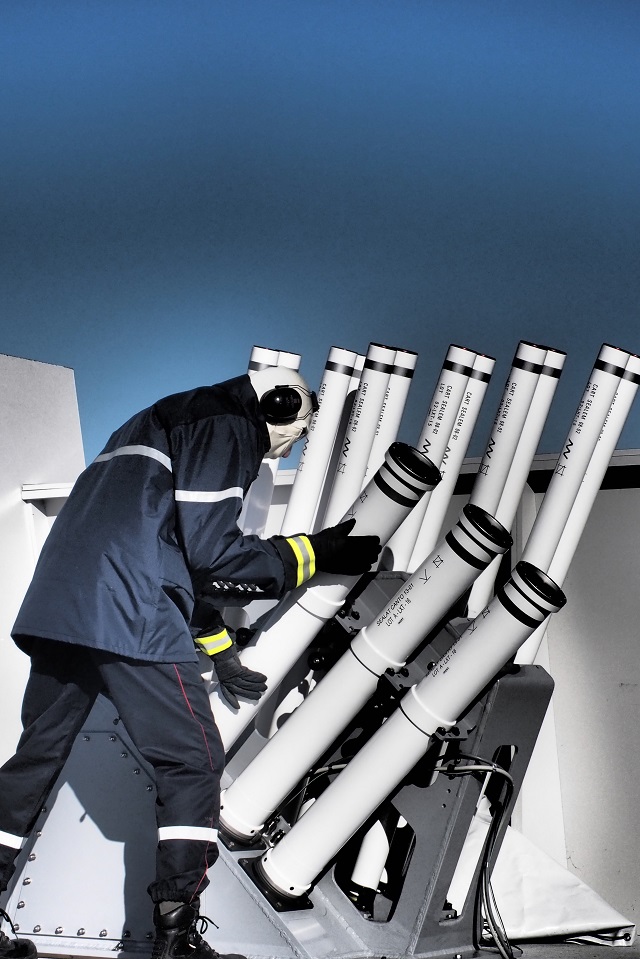 SYLENA MK2 decoy launcher aboard a vessel. Picture: Lacroix
From patrol boats to frigates, The SYLENA range of systems has been developed by Lacroix to offer an optimized solution for ship protection with RF and IIR (Imaging Infrared) SEACLAD decoy effects. Unlike many Decoy Launching Systems which deploy chaff, regarded as outdated with respect to modern electric warfare due to chaff discrimination systems, SYLENA utilizes corner reflector (CNR) technology.

Lacroix fixed launchers are fully compatible with corner reflectors (CNR) and their RF decoys are based solely on this technology: Lacroix does not mix CNR with chaff, in order to preserve the credibility of the decoy. Lacroix decoying solution allows permanent monitoring of the missile and does not interfere with signal propagation, even after the deployment of the decoys, to enable the ship to use its jamming and hard kill capabilities.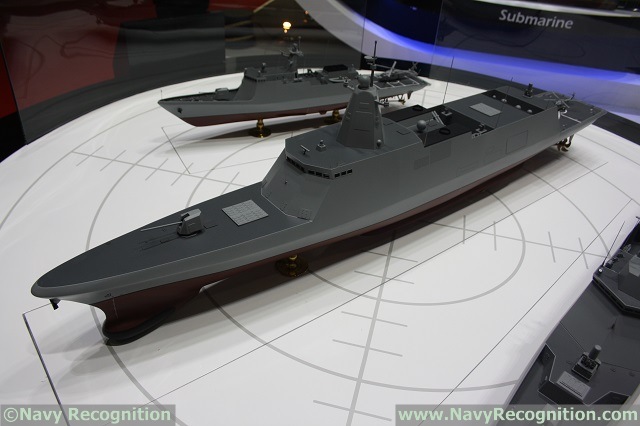 KDDX scale model (DSME design)
Lacroix decoys are already present on many Republic of Korea Navy (ROK Navy) vessels: 27 surface ships are fitted with the K-DAGAIE solution (Safran/Sagem launchers with Lacroix decoys). Several of those ships could be upgraded to the K-DAGAIE NG standard.

Regarding new and future ROK Navy programs, Lacroix is proposing its SYLENA solutions for the LPX Batch II, the FFX Batch III, the PKX-B Batch II and the KDDX programs.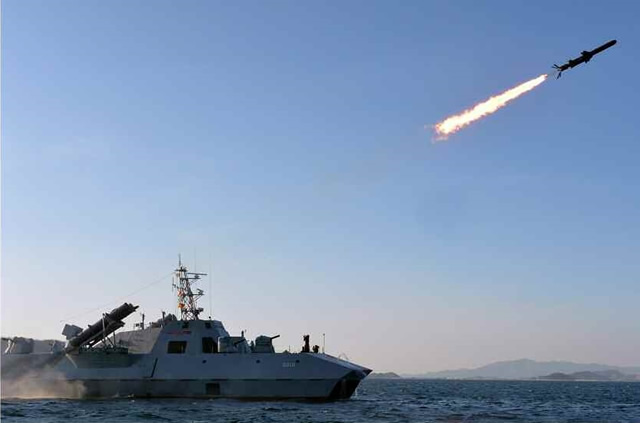 A KPA Navy SES launches a new type of anti-ship missile based on Kh-35
At MADEX 2017, Lacroix stresses the fact that North Korea (DPRK) is now deploying a derivative of the Kh-35 anti-ship missile. This missile poses an emerging threat to the ROK Navy as it is said to be resisting "chaff" decoys commonly deployed by surface vessels. Lacroix insists that next generation decoys such as corner reflectors are the right answer to counter this new threat.
Video coverage of Lacroix Defense at MADEX 2017