a
MADEX 2017 / Marine Week 2017 - Show News
MADEX 2017: Hyundai Heavy Industries Unveils HTD-5500 Large Training Ship Design for ROK Navy
At MADEX 2017, the International Maritime Defense Industry Exhibition currently held in Busan, South Korea, local shipbuilder Hyundai Heavy Industries (HHI) unveiled a new training ship design : The HTD-5500.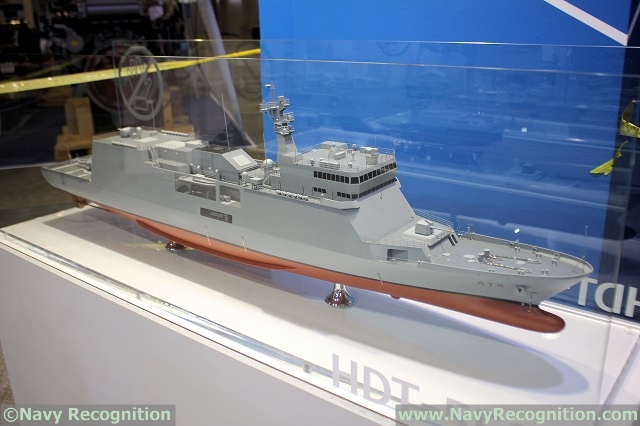 HHI HDT-5500 Training Ship Design Unveiled at MADEX 2017
The vessel on order by the Republic of Korea Navy (ROK Navy) as part of the ATX program is 145 meters in length, 18 meters in breadth for displacement of 5,500 tons.

Its maximum speed is 24 knots, operational range is 7,500 nautical miles at 18 knots and its endurance is 30 days at sea.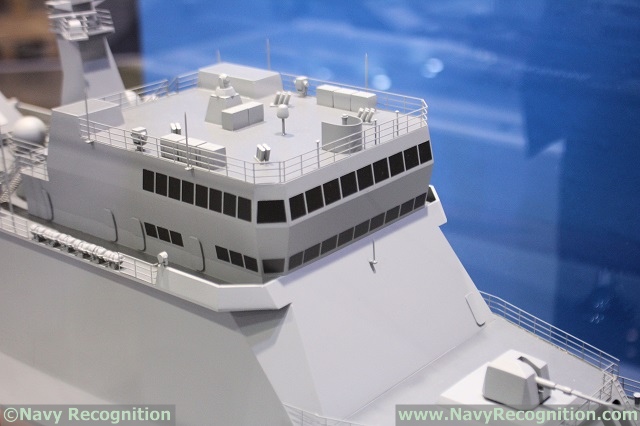 HHI HDT-5500 Training Ship features a dual bridge and a 76mm main gun

The vessel is fitted with two naval guns a systems: A Hyundai Wia 76mm main gun forward and a 40mm secondary gun on top of the helicopter hangar. There is also provision space for a number of K-VLS vertical launch systems aft (but the vessel will not be delivered with VLS). The vessel is also set to be fitted with chaff launchers, torpedo launchers and electronic warfare systems (ECM/ESM) and a hull mounter sonar.

Stern doors and ramps allow for the easy launch and recovery of RHIBs. There is also a deck and hangar for a medium size helicopter.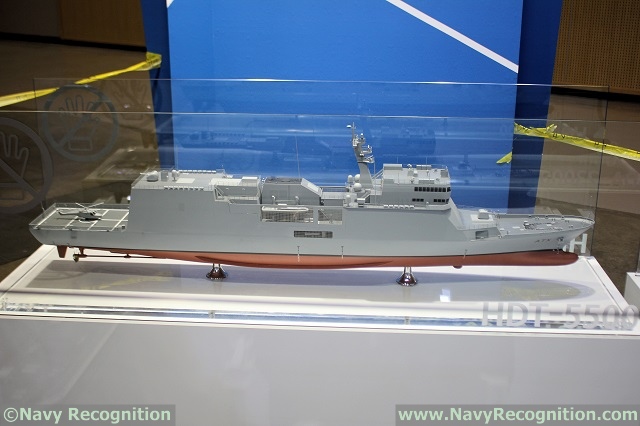 HHI HDT-5500 Training Ship Design Unveiled at MADEX 2017
The vessel features dual compartments for all major systems such as two CICs, two engineering compartments and even two bridges as can be seen on the model. The crew complement will be around 150 sailors.

While the vessel will be used for crew training of ROK Navy cadets (in their third year of training), the vessel will be able to conduct maritime security missions if needed.

HHI entered detailed design for the vessel this year.
HHI HDT-5500 Training Ship is fitted with a helicopter deck, hangar and stern doors and ramp for RHIBs.