a
MADEX 2017 / Marine Week 2017 - Show News
MADEX 2017: Hyundai Heavy Industries HDM-4000 MLS II-class Minelayer of the ROK Navy
At MADEX 2017, the International Maritime Defense Industry Exhibition currently held in Busan, South Korea, local shipbuilder Hyundai Heavy Industries (HHI) is showcasing for the first time a detailed scale model of its HDM-4000 design known as the Nampo-class or MLS II-class minelayer.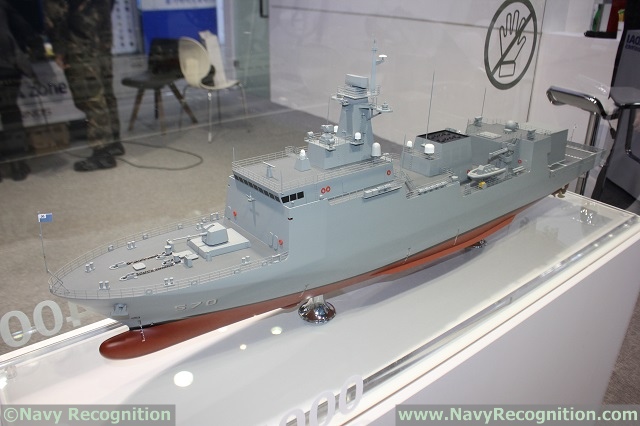 HDM-4000 Mine Laying Ship scale model on HHI stand at MADEX 2017
HII launched the first MLS-II class anti-submarine warfare (ASW) minelayer for the Republic of Korea Navy (ROK Navy) on May 28th 2015. MLS-II Nampo has a lenght of 114 meters, 17 meters in width and 28 meters in draft for a displacement of 4,000 tons. Its crew complement is 120. The vessel was delivered by HII to the ROK Navy this year.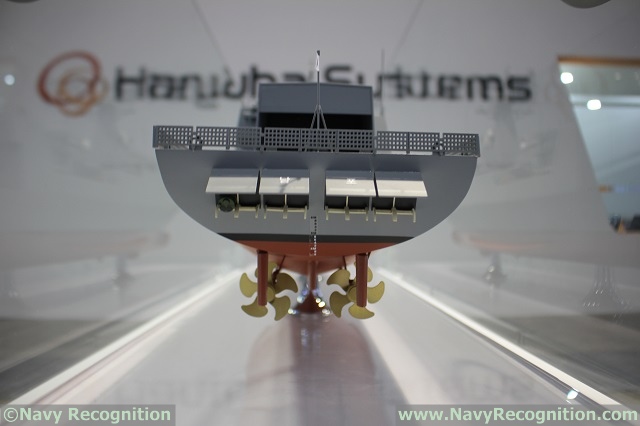 HDM-4000 Mine Laying Ship is fitted with 8x mine laying systems at the stern

Unlike most minelayers, MLS-II vessels are fitted with a potent set of weapons and sensors:
» The MLS-II are outfitted with the full sensors array of the FFX frigate (batch 1) in addition to a more advanced submarine and mine-detecting equipment and countermeasure suite.
» Vessels of the MLS-II class are fitted with a K-VLS package on top of the helicopter hangar that can deploy 'Sea Bow' SAAM interceptors to provide anti-air warfare defense capability.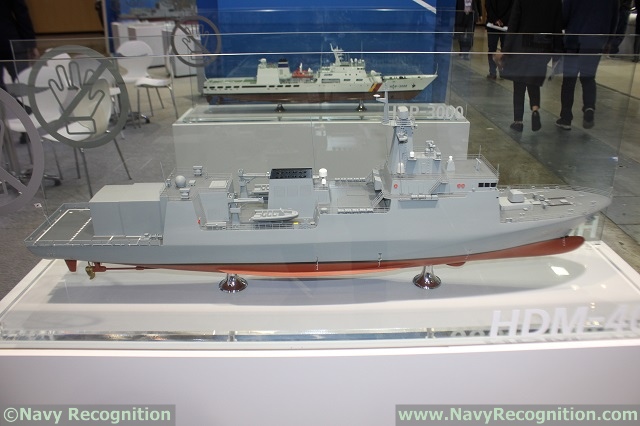 HDM-4000 Mine Laying Ship is fitted with a telescopic helicopter hangar
According to our colleague from Naval Analyses, the class if also fitted with two triple Korean Mk32 Mod 5 torpedo launchers, a Korean-built Mk32 launcher by Hanwha Defense Systems, for LIG Nex1 K745 Blue Shark anti-submarine torpedoes. Each ship is protected by two Rheinmetall multi-ammunition softkill systems (MASS) which are installed amidships. The Nampo class is also equipped with two LIG Nex1 SLQ-261K Torpedo Acoustic Counter Measure (TACM) systems. The main radar of the ships is a LIG Nex1 SPS-550K medium to long-range air and surface surveillance multibeam 3D radar.

At the stern, the MLS II-class is equipped with a highly-sophisticated minelaying system giving the capability of laying precisely, at the target coordinates and depth, more than 500 mines (depending of the type) in a very short period of time. The scale model shows 8 openings and racks at the stern, below the helicopter deck to deploy various mines including mooring mines, CAPTOR (enCAPsulated TORpedo) mines, magnetic and sound mines.

As underlined by Naval Analyses, this class is not only the most modern minelayer class in the world today but it is also one of the only 2-3 classes built worldwide in the last decades that have been designed for this exact role. However, as an HHI told us at MADEX 2017, the vessel can act as a surface combatant as well. In addition, an HHI brochure mentions that the vessel is multi-purpose: It has been designed to be capable of tactical and strategic mine laying as primary mission and logistic support and training as secondary one.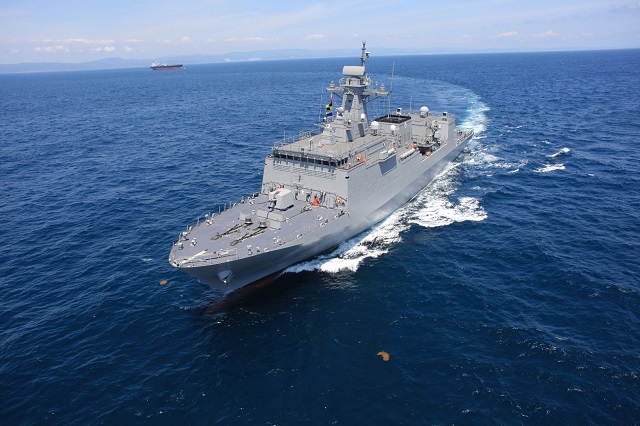 The first MLS II-class vessel of the ROK Navy, Nampo, during sea trials. The vessel was delivered this year.