a
MADEX 2017 / Marine Week 2017 - Show News
MADEX 2017: What we Learned on the ROK Navy Future KDX-III Batch II Aegis Destroyers
At MADEX 2017, the International Maritime Defense Industry Exhibition held in October 2017 in Busan, South Korea, Navy Recognition learned some fresh details on the KDX-III Batch II destroyers.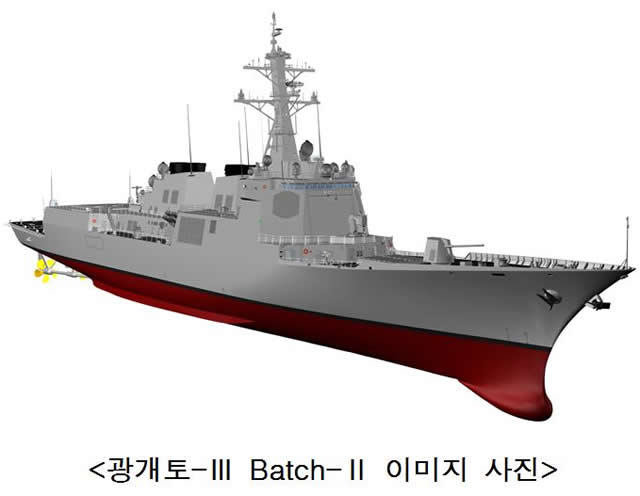 CGI of KDX-III Batch II. DAPA Image
South Korea's Defense Acquisition Program Administration (DAPA) announced in late May 2016 that Hyundai Heavy Industries (HHI) was selected as contractor for "KDX-III Batch-II Design and construction of the first hull". The KDX-III Batch II program calls for the construction of three Aegis destroyers, one to be delivered every two years from 2023. The three existing 7,600-ton KDX-III Batch I Aegis destroyers of the Republic of Korea Navy (ROK Navy) are based on the DDG 51 class of the US Navy.

Since the DAPA announcement last year, almost no information has been publicly released. MADEX 2017 was the right opportunity for Navy Recognition to learn some new details from various sources.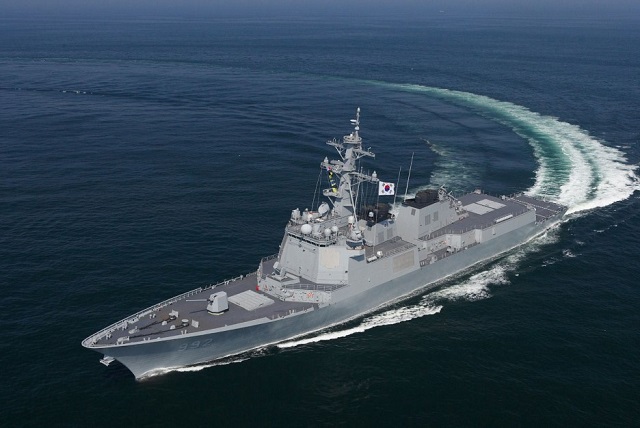 Republic Of Korea Ship ROKS Yulgok Yi I (DDG 992), second of KDX-III Aegis destroyer class (ROK Navy photo)

KDX-III with more (fire)power
Don't expect the KDX-III Batch II to look much different compared to the Batch I. Talking to Navy Recognition at MADEX 2017, an HHI representative explained that "the Batch II will be almost identical to the Batch I in terms of exterior looks". Most of the differences will be inside the ship. The Batch II most stringent new requirements are for more electrical power (to accommodate more powerful radars and combat system) and for a high level of automation in order to reduce the crew size of the ship as per ROK Navy requirements. (Official DAPA documents show a requirement for a crew size of 200 sailors for the Batch II. That's almost half of the Batch I Sejong the Great-class crew complement). Ship size (11,000t full load) is expected to be stay more or less unchanged between Batch I and Batch II. Same goes for the number of VLS (128 strike-length cells: 80 Mk41 for Standard Missiles and 48 K-VLS for K-ASROC Red Shark and Hyunmoo III land attack cruise missiles), the RAM launch forward, the K-Mk45 Mod 4 5 Inch main gun and the impressive 16 SSM-700K Haeseong anti-ship missiles. Thales doesn't produce the Goalkeeper CIWS anymore so this system will be different (our guess it that it will be replaced by a Phalanx or SeaRAM).

"The biggest change will be with the combat system" said our HHI source. While the three existing Sejong the Great-class destroyers are fitted with the Aegis baseline 7, phase 1 combat system (as well as a Samsung Thales Naval Shield Integrated combat system), the Batch II is set to feature the Aegis Baseline 9 and Aegis Ballistic Missile Defense System BMD 5.1 enabling the vessel to shoot down enemy ballistic missiles (an important topic nowadays in South Korea). The vessels would likely feature some kind of local combat system interfaced with the Aegis system too (by Hanwha Systems). DAPA officialy said in 2016 that compared to the present ships, the new vessels will have much improved combat systems that can detect and track targets at greater distances and with more precision. "They will have twice the detection and tracking abilities compared to ships now in service with the country's Navy," DAPA said. It said the ships with an additional variable depth sonar system will also be better at detecting submarine threats. "Once the batch 3 ships become operational, Seoul will be able to better cope with North Korea's nuclear, missile and submarine threats, and should even be able to counter maritime challenges it could face with neighboring countries," DAPA said to local media Yonhap back in 2016.

Depending on export agreements, the vessels may receive gallium nitride technology radar components from Japan. The new class will also benefit from an improved electronic warfare suite (Sonata Next Generation by LIG Nex1). According to our information, the decoy launcher is expected to be the MASS by Rheinmetall. The vessel will also feature indigenous hull-mounted sonar and active towed aray. Finally, KDX-III Batch-II may be the first South Korean vessel class to be fitted with directed energy weapons (not initially but as part of an upgrade).

Initial reports of the Batch II potentially featuring a Hybrid-Electric Drive (HED) system seem to be proved wrong as HHI confirmed to us that the propulsion type will be COGAG (combined gas turbine and gas turbine) with four LM2500 by GE (similar to the Batch I and DDG 51s).

HHI is under contract for design and construction of the first ship for now. According to our information, the Ulsan shipyard has a good chance to build the second and third hulls as well: The program is now a top priority of the ROK Navy and having HHI built all three ships of the class would lower risk. HHI told us that the basic design is currently "halfway through" and that detailed design is set to begin in 2019.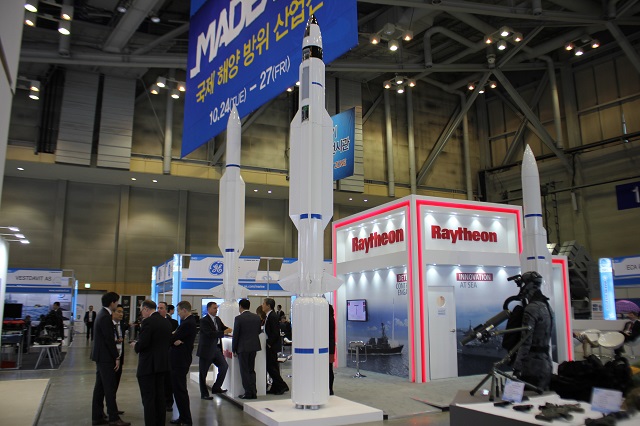 Raytheon stand at MADEX 2017 with full scale models of SM-2, SM-6 and SM-3
Anti-ballistic missiles
US Company Raytheon had a prominent stand at MADEX 2017, with (huge) full scale models of SM-2, SM-6 and SM-3 missiles. Navy Recognition learned that Raytheon is currently discussing with the ROK Navy and South Korea ministry of national defense procurement of additional SM-2s as well as SM-6 and SM-3. Raytheon didn't want to discuss specific programs but it seems clear to us that SM-6 and SM-3 procurement would be linked to the KDX-III Batch II (and potentialy the follow on KDDX program as well). The 3 Batch I destroyers could also be upgraded with SM-6 and SM-3 (since like the SM-2, they all fit in the Mk41 VLS cells), however their older Aegis combat system (baseline 7) may be a limiting factor compared to SM-6 and especially SM-3 missile's performance.

Video: Raytheon at MADEX 2017 with SM-2, SM-6, SM-3
About SM-2
According to Raytheon, SM-2s are the world's premier fleet-area air defense weapons. The missiles are also capable of providing extended-area air defense.
» SM-2's international customers include: Australia, Canada, Germany, Japan, Korea, the Netherlands, Spain and Taiwan.
» SM-2 has been integrated with both Aegis and non-Aegis combat weapon systems.
» The missile can be launched from the MK-41, MK-13 and MK-26 launchers.
» SM-2 has an extensive flight test history of more than 2,500 successful flight tests
» More than 5,000 SM-2s have been delivered to the US and allied customers.

In June this year,

Raytheon Company announced it was restarting its Standard Missile-2 production line to meet the needs of four international customers who aligned requirements and pooled resources to make a 'bundle' purchase through foreign military sales.

The Netherlands, Japan, Australia and South Korea are purchasing SM-2 under this new contact. The missile defends navies against anti-ship missiles and aircraft out to 90 nautical miles and an altitude of 65,000 feet. SM-2 has an extensive flight test history with more than 2,700 successful live firings.



About SM-6
According to Raytheon, the multi-mission SM-6 delivers proven over-the-horizon, air defense through the time-tested advantages of the Standard Missile's airframe and propulsion. SM-6 uses both active and semi-active guidance modes and advanced fuzing techniques. It incorporates the advanced signal processing and guidance control capabilities of Raytheon's Advanced Medium-Range Air-to-Air Missile, or AMRAAM. SM-6 delivers multi-mission capability for long-range Fleet Air Defense, Sea-Based Terminal defense, and Anti-Surface Warfare.

The SM-6 (also known as RIM-174 Standard Extended Range Active Missile or ERAM)
is not meant to replace the SM-2 but to serve alongside. It offers extended range over the SM-2 series missiles, primarily being able to intercept very high altitude or sea-skimming anti-ship missiles, and is also capable of performing terminal phase ballistic missile defense. Its range ravies from
130 to over 200 nautical miles depending on the target. The SM-6 was cleared for export in January this year.


About SM-3
According to Raytheon,

SM-3 destroys incoming ballistic missile threats in space using nothing more than sheer impact, equivalent to a 10-ton truck traveling at 600 mph.
»

SM-3 Block IB is deployed at sea and ashore

»

SM-3 Block IIA is on track for deployment at sea and ashore in Poland in the 2018 timeframe

The program has more than 25 successful space intercepts, and more than 250 interceptors have been delivered to U.S. and Japanese navies.
The SM-3 Block IB interceptor has an enhanced two-color infrared seeker and upgraded steering and propulsion capability that uses short bursts of precision propulsion to direct the missile toward incoming targets. It became operational in 2014, deploying for the first time on U.S. Navy ships worldwide. The next-generation SM-3 Block IIA interceptor is being developed in cooperation with Japan and will be deployable on land as well as at sea. It has two distinct new features: larger rocket motors that will allow it to defend broader areas from ballistic missile threats and a larger kinetic warhead. The interceptor's kinetic warhead has been enhanced, improving the search, discrimination, acquisition and tracking functions, to address advanced and emerging threats. SM-3 Block IIA range is about 1350 nautical miles with a speed in excess of Mach 15 (for the kinetic warhead while in space), according to open sources.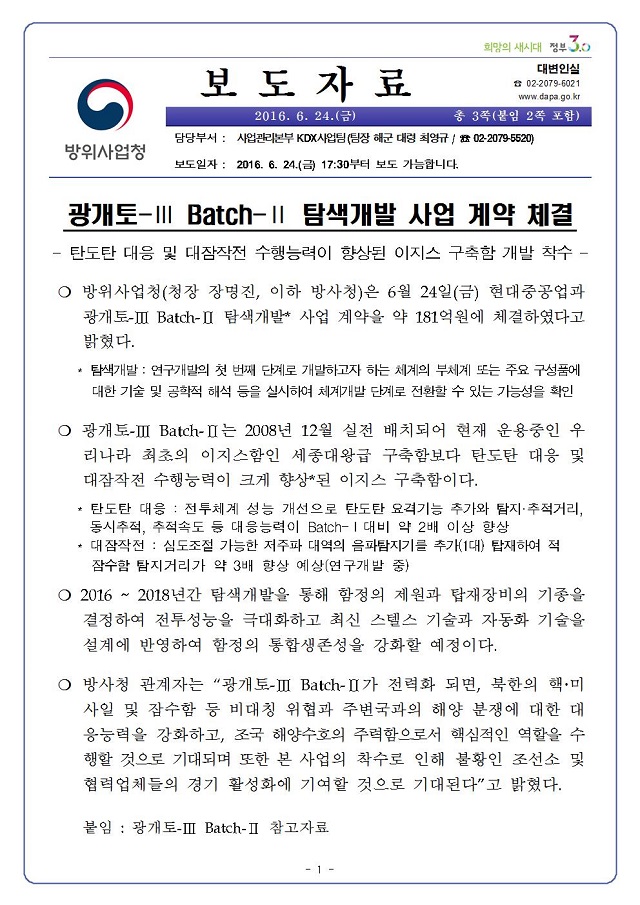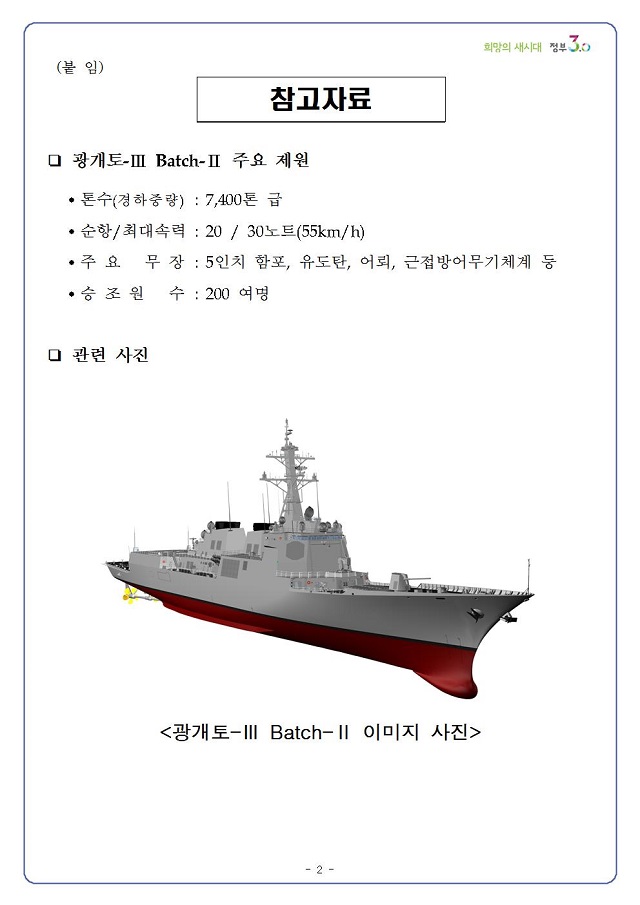 Official DAPA documents announcing the KDX-III Batch II contract award to HHI in 2016