a
MADEX 2017 / Marine Week 2017 - Show News
MADEX 2017: South Korea Developing a Supercavitating Torpedo
At MADEX 2017, the International Maritime Defense Industry Exhibition held in October 2017 in Busan, South Korea's Agency for Defense Development (ADD) stand was featuring a "supercavitating underwater test vehicle".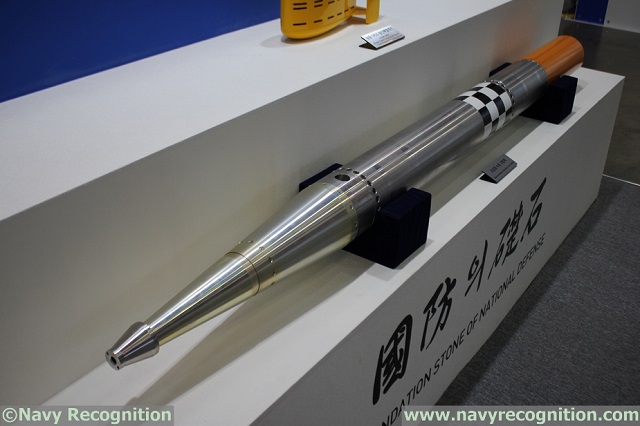 Supercavitating underwater test vehicle on ADD stand at MADEX 2017
A poster displayed above the test vehicle explained that ADD research focuses on the cavitator design to optimize the supercavitating torpedo performance. The poster on display at the MADEX 2017 show read:
Development of key technologies for supercavitating torpedo:
- Supercavitator design technology
- Cavity shapes and hydrodynamic forces prediction technology
- High-speed cavitation tunnel for supercavitation experiment

Talking to Navy Recognition during MADEX, an ADD engineer working on the project confirmed that the development which started in 2013 focused so far on the cavitator design. "Test in tanks started in 2015 and maybe live tests in the sea will take place around 2020" the engineer told us.

The diameter of the current test vehicle is 125mm (for comparison, the famous Russian VA-111 Shkval torpedo is 533mm in diameter). The engineer told us that the dimensions of the actual torpedo has not been decided yet. The propulsor was tested with solid fueld and the expected top speed is 100 meters per second (around 200 knots which is similar to the Shkval speed). He added that the supercavitating torpedo is set to have "a sonar in the head and fins in the back for steering".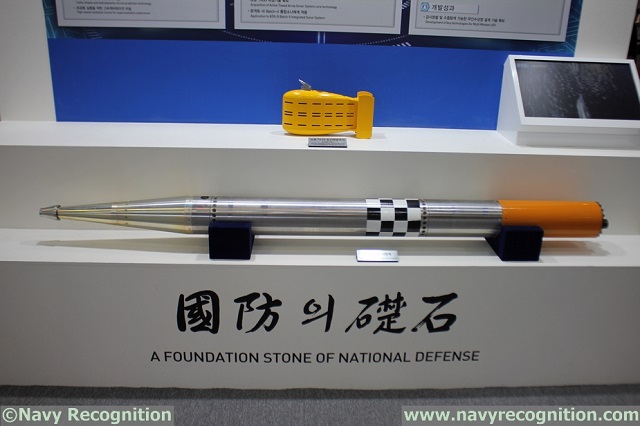 Supercavitating underwater test vehicle on ADD stand at MADEX 2017
The only country to have fielded supercavitating torpedoes is Russia with the VA-111 Shkval and its descendants. Shkval's development started in 1960. The requirements specification called for a torpedo with a cruising speed of 200 knots and a range of 20 km for launch via the standard 533-mm torpedo tube.

The first prototype was made as soon as 1964. The same year, it launched its tests at Lake Issyk-Kul followed by tests in the Black Sea near the city of Feodosiya. The tests failed. The designers developed one model after another that kept on failing to meet the stringent requirements specification. It is the sixth prototype that passed the tests and was cleared for full-rate production. The torpedo entered the Soviet Navy's inventory in 1977.

More details in the Shkval and its follow-on, the Khishchnik (Russian for 'raptor') at this link.
Footage showing South Korea's supercaviating torpedo during tank tests in 2015