a
NAVDEX 2017 Online News Coverage - ST Marine / ADSB

ST Marine teaming with ADSB to Propose Endurance-class LHD to UAE Navy
At NAVDEX 2017, the international naval defense exhibition currently held in Abu Dhabi, ST Marine from Singapore is showcasing an Endurance 160 LHD scale model on Abu Dhabi Shipbuilding (ADSB) stand.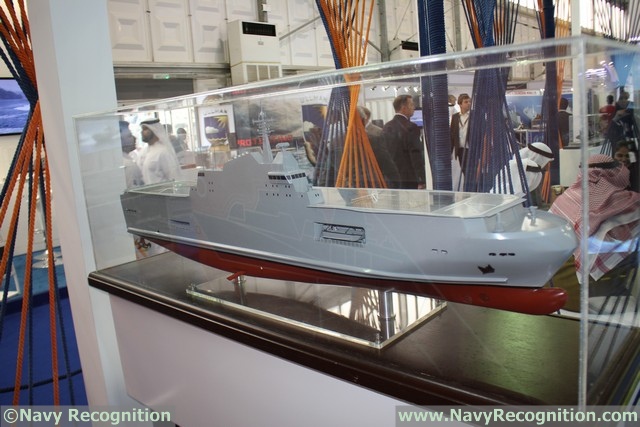 ST Marine Endurance 160 LHD scale model on ADSB stand at NAVDEX 2017
The Endurance class is a well proven multi-purpose and multi-role ship designed by ST Marine. To date, four Endurance 140 LPDs have been delivered to the Republic of Singapore Navy and one to the Royal Thai Navy.

A larger variant, the Endurance 160 LHD, have 5 spots on deck for helicopters with a below deck hangar. For sea projection and transport purposes, it has a well dock capable of operating multiple small craft. This is complemented by vast storage areas for desired supplies and vehicles. For pier-side loading, it has a side ramp and turn-table, as well as an organic crane.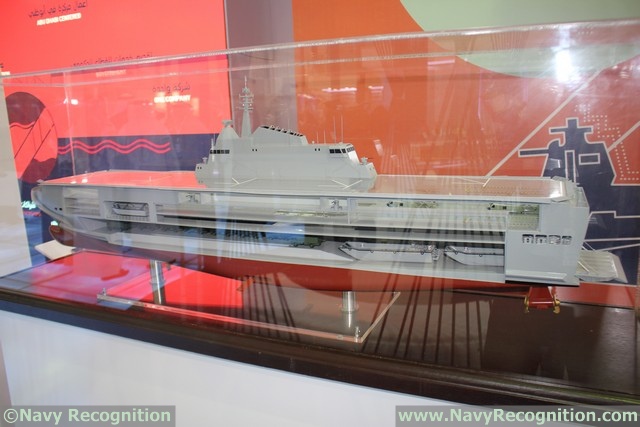 ST Marine Endurance 160 LHD scale model on ADSB stand at NAVDEX 2017

Talking to Navy Recognition at the show, a ST Marine representative explained that the company is teaming up with local shipyard ADSB to propose this type of vessel to the UAE Navy.

While the UAE Navy doesn't operate such large vessels yet, a flat deck/LHD type vessel would not be a first in the Gulf region: The navy of Qatar ordered an LHD (among other vessels) from Italian shipyard Fincantieri. The vessel however, based on Algerian Navy's Kalaat Beni Hammed class, will mostly serve as a radar platform.