a
SNA 2017 Show News - Airbus DS TRS-3D
TRS-3D Radar Selected for U.S. Coast Guard's Ninth National Security Cutter
Airbus Defense and Space, Inc., under contract with its affiliate Airbus DS Electronics and Border Security GmbH, will provide the TRS-3D Baseline D multi-mode radar (MMR) for the U.S. Coast Guard's ninth National Security Cutter (NSC).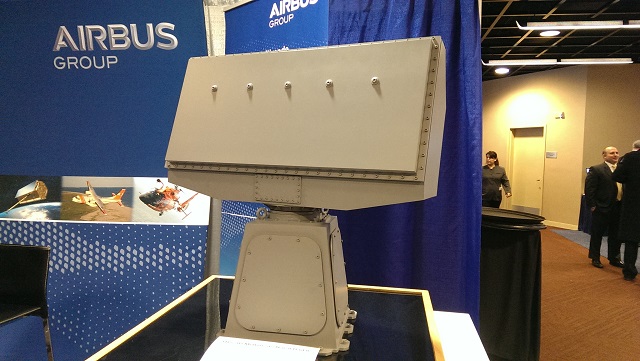 TRS-3D radar scale model on Airbus DS stand at SNA 2017

The TRS-3D Baseline D, designated AN/SPS-75, utilizes gallium nitride (GaN) technology to deliver traditional TRS-3D robust performance while improving reliability and options for future development. Airbus TRS-3D radars have been aboard every NSC since the program's inception.

"The AN/SPS-75 is the right choice to meet Coast Guard requirements for a multi-mode radar," said Mike Cosentino, President of Airbus Defense and Space, Inc. "It is currently meeting operational requirements and is consistent with Coast Guard investments in training infrastructure ashore, as well as with their existing sustainment program."

The contract to provide the AN/SPS-75 MMR is with Lockheed Martin, with whom Airbus has worked to provide radars for all prior NSCs. Lockheed Martin's intimate knowledge and experience with AN/SPS-75 technology enabled them to successfully integrate the radar with all systems required by the NSC program, and that experience carries forward into the current contract.

Since its introduction in 1995, the radar became a global sales leader with more units being sold than any radar in its class. In the U.S. market, it is in the U.S. Navy inventory aboard Freedom-variant Littoral Combat Ships and in the Coast Guard inventory aboard all NSCs, as well as at the service's shore-based training center in Petaluma, Calif. Its design has matured over the years to meet evolving customer requirements and keep pace with advances in technology.

Employing state of the art GaN technology, the TRS-3D is a three-dimensional, multi-mode naval radar for air and surface surveillance, target acquisition, self-defense, gunfire support and aircraft control. It automatically detects and tracks all types of air and sea targets, alleviating crew workload requirements. Life cycle affordability is further enhanced by the reliability of the AN/SPS-75's solid-state system design, keeping maintenance costs low and further contributing to lower lifecycle costs.