a
SNA 2017 Show News - Kongsberg & Raytheon NSM

Video: Kongsberg Ready to Operationalize Distributed Lethality with NSM for LCS, DDG & LPD
At the Surface Navy Association's (SNA) National Symposium recently held near Washington DC, Norwegian company Kongsberg was showcasing the Freedom and Independence variant Littoral Combat Ships (LCS), an Arleigh Burke class Destroyer (DDG 51) and a San Antonio class Landing Platform Dock (LPD 17) each fitted with eight Naval Strike Missiles (NSM).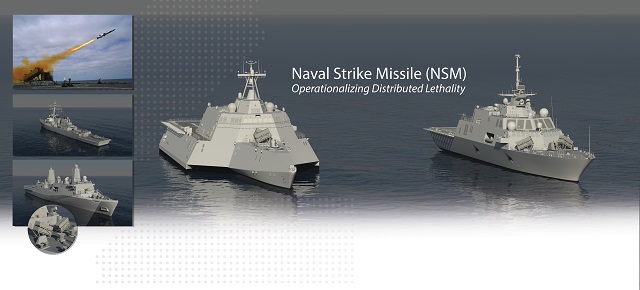 Kongsberg image

A draft request for proposal (RFP) for the LCS Frigate over the horizon (OTH) weapon requirement was issued in December 2016, with the final RFP expected by the end of January 2017. The contenders to answer the LCS OTH requirement are Kongsberg (teamed with Raytheon) with the NSM, Lockheed Martin with the LRASM and Boeing with the Harpoon ER. Each company was showcasing their anti-ship missile solution at SNA this year.

"NSM has the ability to strike at extended ranges with precision, accuracy and reliability" said Gary Holst, senior director of business development at Kongsberg.

"Raytheon teamed up with Kongsberg because they have a fielded, very very capable fifth generation cruise missile that we think has the footprint and proven capability to very quickly and efficiently meet this surface navy demand to distribute more offensive lethality on ships" said Thomas Copeman (Vice Admiral ret.) from Raytheon.
Video interview on NSM at SNA 2017
The distributed lethality concept (one of the themes of the symposium) was introduced by Vice Admiral Thomas Rowden, the Commander of the U.S. Navy's surface forces. It can be summarized by fitting more weapons on more vessels in order to "deceive the enemy, target the enemy, and destroy the enemy".

The Kongsberg booth at SNA 2017 featured scale models of the Freedom and Independence variant LCS fitted with "bolt on" NSM launchers. In addition, the booth featured large posters showing computer generated images of DDG 51 and LPD 17 fitted with NSM launchers.

On the DDG 51 (Arleigh Burke class) Destroyer, the two launchers (for four NSM each) are fitted amidship between the aft VLS cells and the Phalanx CIWS.

On the LPD 17 (San Antonio class) Landing Platform Dock, the NSM launchers are fitted at the bow, forward of the 40mm gun system and SeaRAM launcher.

Hans Kongelf, Vice President of Missile Systems at Kongsberg previously told Navy Recognition that the main strength of the NSM are:
- Defense penetration capabilities thanks to its stealth, extremely low sea-skimming flight profile and high G maneuvers.
- Target recognition: Each NSM is fitted with a library of ship profiles to recognize each ship classes.
- NSM is available today, it is in production, fielded by the Royal Norwegian Navy, the Polish Navy and selected by the Royal Malaysian Navy.