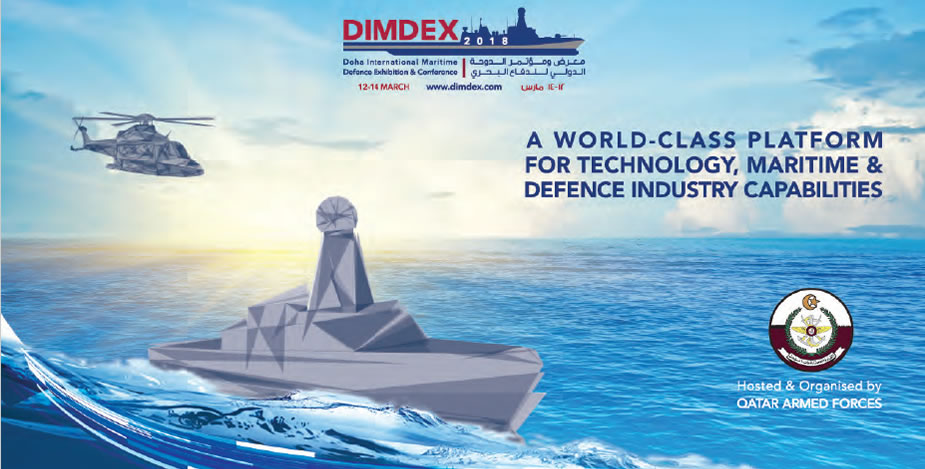 DIMDEX 2018
Doha International Maritime Defence Exhibition and Conference
Doha, Qatar
About DIMDEX 2018 | Video | Why Exhibit | Why Visit | Official Website | Official Online News and WebTV

About DIMDEX 2018

Held under the patronage and vision of His Highness Sheikh Tamim bin Hamad Al-Thani, Emir of the State of Qatar, and proudly hosted and organised by Qatar Armed Forces, the Doha International Maritime Defence Exhibition & Conference, DIMDEX, has grown to become a leading event in the global maritime defence and security industry calendar.
Now in its sixth edition, this prestigious event is renowned to be a dynamic gateway to industry insights, solutions and procurement opportunities, for maritime and defence leaders from around the world. DIMDEX 2018, will be held over 3 days from 12-14 March at the Qatar National Convention Centre.
DIMDEX 2018 presents a premier programme that provides the maritime and security community with access to cutting-edge military technology and the opportunity to build and strengthen relations with key stakeholders.
DIMDEX 2018 Video

Why Exhibit At DIMDEX 2018?
DIMDEX is an established platform that showcases the latest naval, maritime and security innovations to key audiences from across the globe. Hosted and organised by Qatar Armed Forces, DIMDEX encourages productive commercial opportunities by enabling exhibitors to request for appointments with the official VIP delegations of choice via our exclusive Delegation Management System (DMS).
Why Visit?
Since its inception in 2008, DIMDEX has grown exponentially to become the MENA region's leading international maritime defence exhibition and conference.
DIMDEX has built a reputation as a pivotal platform that connects industry's key influencers with global exhibitors. With an extensive exhibitor list which includes warship constructors as well as manufacturers and suppliers of onboard systems and ancillary equipment; DIMDEX is the gateway where vital introductions are made and lucrative procurement deals are initiated. In addition to that, DIMDEX also addresses the offshore critical infrastructure protection that is essential for the emerging asymmetric threats.
The wide mix of regional and international delegations hosted at DIMDEX makes the exhibition and conference an ideal meeting place for the entire naval, maritime and security industry.
Now known to be one of the must-attend shows in the maritime security calendar, DIMDEX attracts a national and international elite audience of key decision makers from government, military, naval forces, maritime and security industry.
DIMDEX 2018 Official Website


The DIMDEX 2018 official website offers complete information on the conference and exhibition.

Visitor Registration: Follow this link for online registration
Contact DIMDEX organizers
Visit the website online at www.dimdex.com
Navy Recognition - Official Online News and WebTV


The organizers have appointed Navy Recognition to provide the Official Online News and Web TV of DIMDEX 2018, published to one of the most popular online one of the most popular naval defence online magazine, www.navyrecognition.com.
During the DIMDEX 2018 even, Navy Recognition will also provide the Official DIMDEX 2018 Web TV with daily video reports from the show.

As the DIMDEX 2018 Offiicial Online News, Navy Recognition editorial team will have a significant presence at the show to bring you a full coverage on the event. Published online and updated daily, if you cannot attend DIMDEX 2018, make sure to check out our news, reports, pictures and videos.

If you want your company press releases published in the DIMDEX Online Show Daily
simply send your press releases and pictures to our Editorial Team at:
pressrelease(at)navyrecognition.com
There is no charge to submit your press releases but we cannot guarantee that all press releases will be published.
Do you need some advertising and marketing services to increase your impact before, during and after the exhibition?
Check availability and pricing at this link
Or Contact the Navy Recognition Marketing Team at:
marketing(at)navyrecognition.com