---
Lacroix Defense will exhibit at the Balt Military Expo 2018 exhibition where they will showcase the SYLENA LW Decoy launcher system and related munitions. The Etienne Lacroix Group, founded in France in 1848, is a reknown countermeasures and pyrotechnics manufacturer. Balt Military Expo will take place at the AmberExpo MTG SA Exhibition and Convention Centre in Gdańsk, Poland, June 25-27, 2018.
---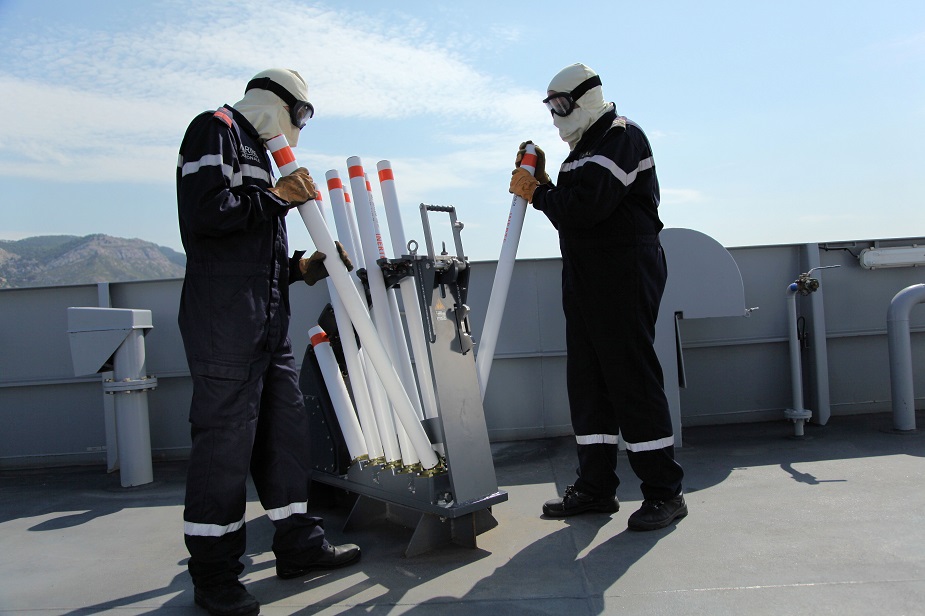 Employing a centroid seduction tactic, SYLENA LW is designed for patrol ships and modern OPVs. This DLS can be fully integrated in the CMS, or directly coupled with the ESM or be used in a standalone configuration. Lacroix picture.

---
Once again, in the Baltic Area, Lacroix will be showcasing its cutting-edge compact SYLENA LW decoy launching system, proposed for Kormoran Program.
LACROIX provides innovative and distinct decoy solutions including AAW and ASW cutting-edge pyrotechnic applications for warship survivability, deploying especially:
- Corner reflector decoys against radar (RF) threats
- Spectral morphologic infrared decoys (IR) against passive infrared threats
- Innovative anti-torpedo solutions
---

BALT-MILITARY-EXPO 2018 will take place at the AmberExpo MTG SA Exhibition and Convention Centre in Gdańsk, Poland, June 25-27, 2018.
---
Q&A with Olivier Priouzeau, Regional Business Development Manager.
You will be attending the Balt Military Exhibition from June 25 to 27. What are your current events and perspectives on this country?
Our company is going to attend BME for the 2nd time and our goal is to survey the market, showcase our technology and to see how we can provide it to the Polish forces.
LACROIX has developed a family of decoy launching systems called SYLENA, which utilizes innovative corner reflector technology able to defeat old and new generations of missiles guided by radar seeker.
This technology is in service onboard hundreds of vessels managed by navies throughout Europe, Asia and the Middle East.
Considering naval programs in the Baltic area, we seek to develop our footprint in Eastern Europe by addressing other Navie's requirements.
What types of products and services will you showcase during the show?
During BME 2018, LACROIX will showcase the SYLENA LW decoy launching system adapted to the KORMORAN II class program.
SYLENA technology is compatible with various Combat Management System such as SCOT solution developed by the polish technical naval institute CTM.
For example, the compact, lightweight and amagnetic SYLENA LW solution is well suited to enhance significantly the self-protection of the KORMORAN II class program.
Our team is also delighted to announce our 1st participation to the NATCON conference, as Official Partner.
During this event, our team is invited as guest speaker on Monday June 25 at 2.15 PM, and will introduce during this EW specialist congress, a new generation of naval self-protection solutions. We will particularly introduce the cutting edge Corner Reflector technology.
What benefits do you expect from this 2nd participation?
Balt Military Expo is one of the specific naval event in Europe, and it is definitely a good opportunity
to welcome our polish partners in order to strengthen industrial cooperation in Poland and provide integrated and customized solution to the polish Navy.
---