---
At Balt Military Expo 2018, the naval defense exhibition currently held in Gdansk, Poland, Germany's Rheinmetall is showcasing its MASS (multi ammunition softkill system) decoy system.
---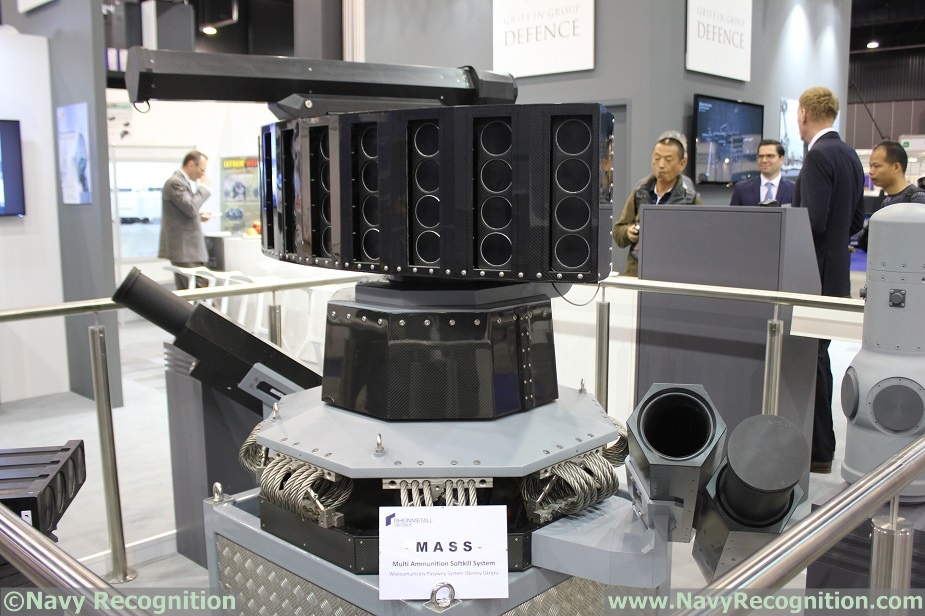 Rheinmetall MASS Naval Decoy System on display at Balt Military Expo 2018 (fitted here with optional off-board corner reflector launcher on top and CANTO for anti-torpedo defence). Picture: Navy Recognition.

---
According to Rheinmetall, MASS is the world's number one naval countermeasure system, reliably protecting surface combatants from advanced anti-ship missiles as well as asymmetric threats in littoral environments.
On display at Balt Military Expo is the latest variant of MASS: Encompassing the full spectrum of naval air and anti-submarine warfare threats, MASS now provides capabilities such as a millimetre wave (MMW) decoy capability, the MMW sensor SME100+ for MMW anti-ship missile detection as well as the off-board corner reflector and acoustic decoy CANTO for anti-torpedo defence. These capabilities have been developed in cooperation with different defence contractors.
The off-board corner reflector (OCR) provides advanced capabilities against modern anti-ship missiles. Two OCR launcher tubes can be fitted on-top of a MASS unit. They deploy radar decoys that simulate the vessel's radar signature. The decoys are manufactured by Airborne Systems.
Unveiled in 2015, this new MASS option can replace chaffs and is designed to defeat even the most up-to-date developments in anti-ship RF missile seekers, including those fitted with chaff discerning algorithms (such as the C705 from China).
Designed by Naval Group, CANTO represents a breakthrough in the field of torpedo defence. Unlike the classical decoys aiming at seducing the attacking torpedo by recognizing its acoustic signal and reproducing one false target, CANTO is based on dilution/confusion principle. CANTO countermeasure acts completely independently of the torpedo threats thus offering a protection against numerous simultaneous torpedo attacks even in case of unknown torpedo threats.
Rheinmetall is proposing the MASS for the Polish Navy Miecznik (Coastal Defense Ship) and Czapla (offshore patrol vessels) programmes.
---