---
At Balt Military Expo 2018, the naval defense exhibition currently held in Gdansk, Poland, Canadian company OSI is showcasing its leading naval integrated navigation and tactical solutions.
---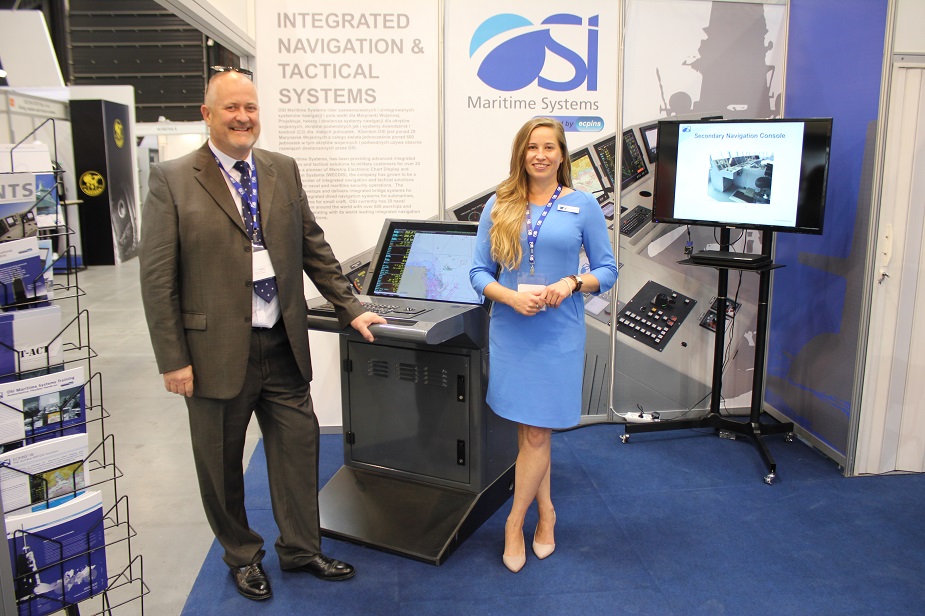 OSI stand at Balt Military Expo 2018. Picture: Navy Recognition.

---
The product of over 20 years of Military Electronic navigation experience and certified against MED Type Approval, OSI's Integrated Navigation & Tactical System (INTS) gives users the most compliant and fully scalable military Integrated Bridge System (IBS) available.

Shipbuilders will find INTS represents a cost-effective, total solution that provides for IBS installations to be completed on time and on budget. Featuring a scalable, sensor agnostic solution, INTS suits a range of programs from retrofits to new builds, and surface combatants from coastal patrol craft to capital warships.

At the heart of INTS is ECPINS® (Electronic Chart Precise Integrated Navigation System Warship), an International Maritime Organization (IMO)
Approved ECDIS - and one of the only ECDIS independently certified against NATO WECDIS STANAG 4564.
Earlier this month, OSI announced the signing of a contract with Damen Shipyards Cape Town (DSCT) in support of the Project BIRO three-ship Multi-Mission Inshore Patrol Vessel (MMIPV) program for the South African Navy (SAN). Under the terms of the contract, OSI will supply and install its INTS, Tactical Asset Control & Tracking (T-ACT) System, and Integrated Mission Management System.
In Poland, OSI is looking to provide its solutions for existing vessels overhauls as well as for future programmes.
---