---
During DIMDEX 2018, the Doha International Maritime Defence Exhibition & Conference, the Qatar Emiri Naval Forces was showcasing its future fleet, naval base and training facilities on its large booth.
---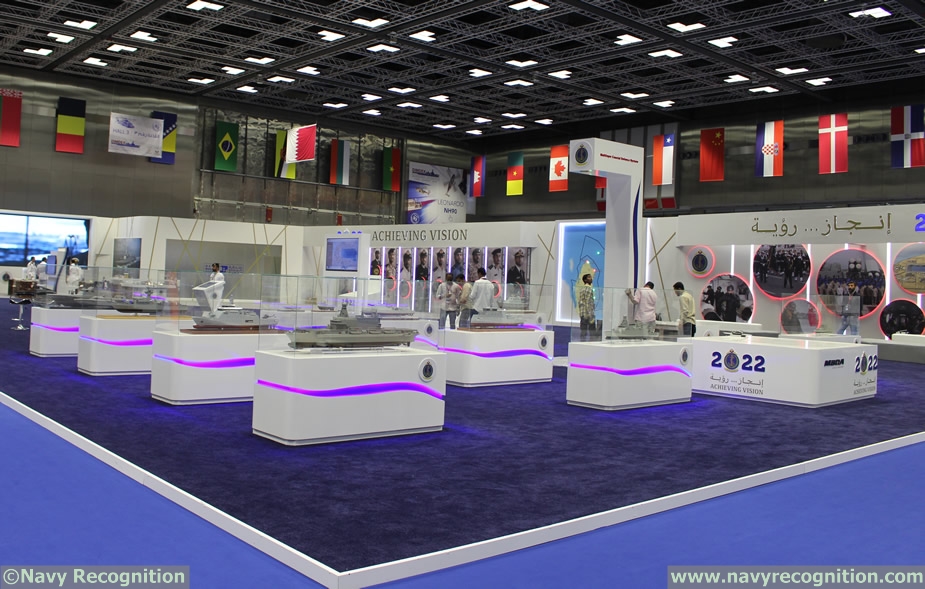 The large booth of the Qatar Emiri Naval Forces at DIMDEX 2018

---
The experience of the Qatar Naval in acquiring the latest high-tech naval vessels, which represents a major breakthrough in the field of combat armament worldwide, represents an achievement for the vision of the future Qatar Emiri Naval Forces.
The year 2022 will witness a real and tangible achievement and an indication of the approaching golden age of the history of the Qatar Emiri Naval Forces.
---
Video: Qatar Emiri Naval Forces - 2022 Achieving Vision

---
The Qatar Emiri Naval Forces plays an important role in the Qatar's regional water operations, where it is responsible for securing and protecting Qatar's territorial waters from any external threats or attacks. The tasks and role of these forces begin at 12 miles from the Qatari water coast, and beyond that comes under the responsibility of the General Directorate of Coasts and Borders Security (Coast Guard) of the Ministry of the Interior (MOI). There is very close cooperation between the Navy and Coast Guard in many operations.

Within the framework of the overall strategic plan of the Qatar Armed Forces (General Head Quarter) which aims at enhancing the efficiency and combating capabilities of the Qatar Emiri Naval Forces to meet the challenges and possible threats to Qatar's regional water.

In recent years, the Qatar Navy has witnessed massive modernization of weapons and equipment to keep pace with latest scientific and technological developments by providing the navy with the latest military equipment and armaments.

In order to achieve the Vision of the Qatar Emiri Naval Forces, it is currently implementing all future projects of modernizations and development in the armament, training and rehabilitation giving necessary attention to the military facilities in line with the plans and strategies set to enhance efficiency, upgrade different competencies in all disciplines to reach the highest level of combat capabilities. This is to ensure security and protect national borders and economic interests.

In order to develop its educational system the Qatar Emiri Naval Forces has modernized all training methods and rehabilitation within its educational establishments in line with the plan to implement future and current projects.

In line with its role in protecting Qatar›s territorial waters and building up its fighting capabilities, the Qatar Emiri Naval Forces has chosen the best international companies to arm its forces, always seeking new partnerships to share expertise and enhance combat capabilities.
---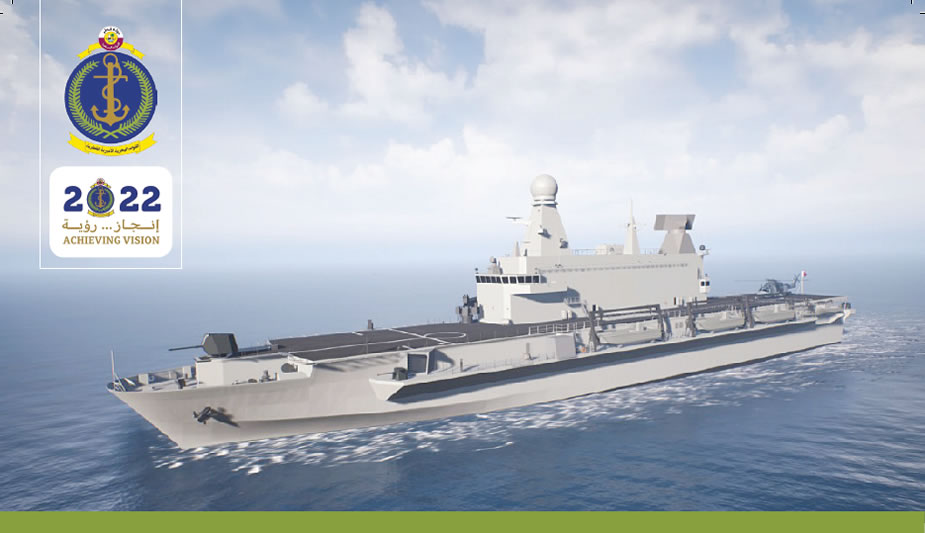 Artist impression of the future air defense LPD of the Qatari Navy
---