---
The Italian Shipward Company Baglietto Navy won a contract with a European navy for the delivery of two MNI's 15 fast 15 m aluminum craft. The production of the first prototype of the MNI 15 was started in March 2016 according to the official web site of Baglietto Navy.
---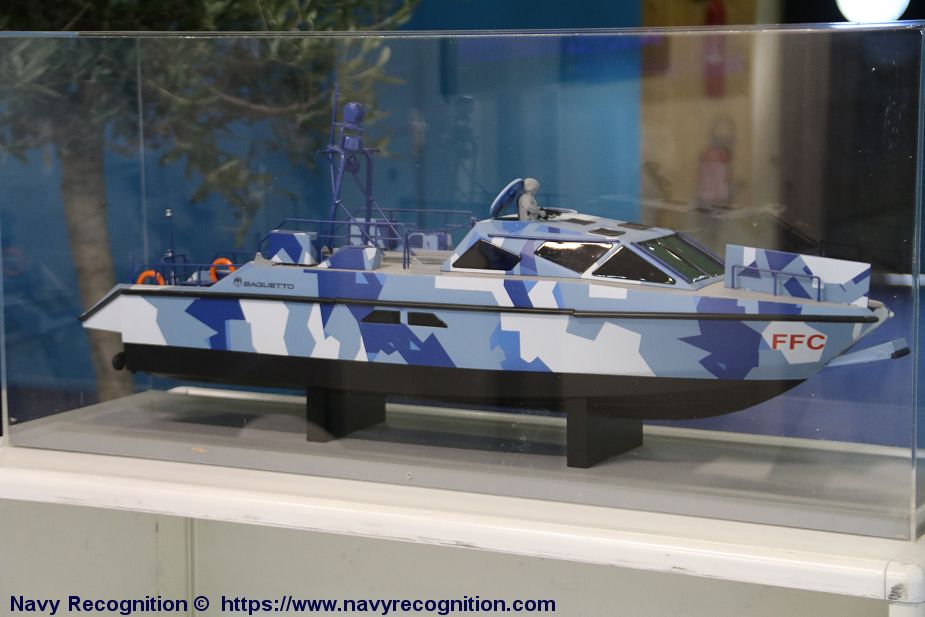 Scale model of Baglietto Navy MNI 15 at Euronaval 2018 (Picture source Navy Recognition)

---
The MNI 15 is a multi-purpose platform, widely customizable in terms of both engine/propulsion and interior/exterior layout and features, it can be used as landing craft, from fast attack to police actions, patrolling and rescue.
The MNI 15 can reach a maximum speed of 47 knots and excellent maneuverability are the main features of this craft and, together with its limited draught (0.80 m), make it ideal for both beaching and river navigation.
The material used for the hull and the superstructure is an innovative 5083-H 128 aluminum alloy ideal for marine applications. The high metal sheet cutting and assembly techniques implemented contribute to achieving a flawless surface finish and do not require the use of paint for exterior finishing.
The deep-V bottom has been designed to ensure great speed and outstanding maneuverability and sea keeping features. The stealth shapes of the superstructure result in maximum visibility and minimum impact.
The interior layout can be optimized depending on the type of mission, allowing to remain at sea for at least one week.
A watertight hull door is located forward, under the main deck, for personnel embarkation / disembarkation. The door can even be opened while at sea, during maneuvering, and even when moving at low speed, to recover any floating items). Thanks to its limited size, this boat can be easily carried on board a parent ship and transported by road.
---