a
Naval Defense Industry News - USA
Raytheon ESSM intercept of high-diving threat proves expanded defensive capability
Raytheon Company's Evolved SeaSparrow Missile (ESSM) destroyed a high-diving, supersonic threat during a recent firing from the U.S. Navy's Self-Defense Test Ship. "The success of this firing, highlighted by a skin-to-skin intercept, is a direct result of a series of enhancements to what is truly an international missile," said Rick Nelson, vice president of Raytheon Missile Systems' Naval and Area Mission Defense product line."Thanks to our multinational team's commitment to continuous improvement, each consortium member gains valuable protection for their fleets based on ESSM's interoperability with a wide range of combat systems."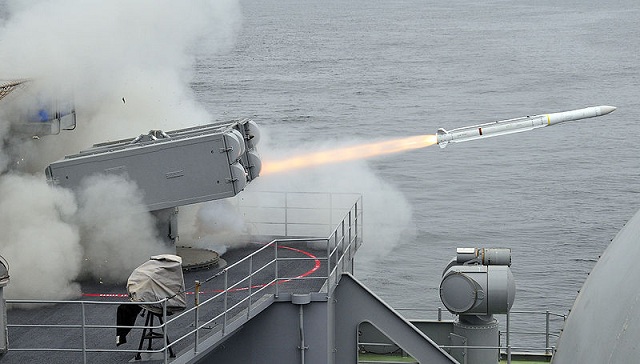 RIM-162 ESSM launch from USS Carl Vinson (CVN-70), July 2010
(Picture: US Navy)
ESSM provides critical layered defense by delivering protecting firepower against high-G maneuvering anti-ship cruise missiles, supersonic high-diving threats and low-velocity air threats, as well as surface targets. Recently, ESSM was successfully launched from a ground-based system, demonstrating that the missile's performance over ground matches that over water. Significantly, no software changes were required to prove the ESSM's enhanced capability.

About ESSM
With 18 industrial partners representing 10 nations, ESSM is the world's premier international cooperative missile production program. ESSM is a key component of Raytheon's portfolio of products that provide a global layered defense capability to meet the needs of diverse platforms, combat system design and theaters of operation.