a
Naval Industry News - France
DCNS SEPIA: The first submarine R&D project with a focus on ecodesign and the environment
SEPIA (standing for Submarine with Environmental Performance Improvement Along-life) constitutes a world's first in terms of environmental analysis and ecodesign applied to a submarine. This new R&D project self-funded by DCNS started by an analysis of the life cycle of an existing DCNS submarine (Scorpène SSK). The goal being to evaluate the environmental impacts of each step of the submarine's life cycle: Construction, active duty, maintenance, dismantling...

Ultimately, the aim is to identify new architectures and innovative technologies allowing the minimization of these impacts while meeting the operational standards of such a vessel.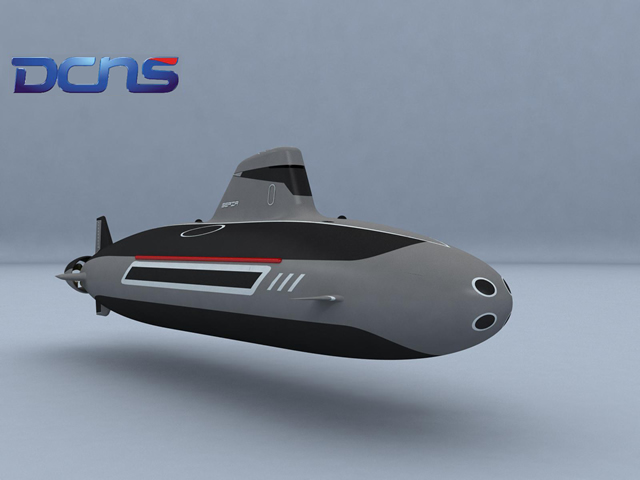 SEPIA Submarine concept by DCNS
Picture: DCNS
According to Eric Fusil, SEPIA Project Manager and Naval Architect at DCNS' Naval Submarine Division, the focus is in three main areas:
» energy efficiency improvement
» waste minimization
» use of environmentally friendly materials.

The effort is focused first and foremost on energy optimization of the propulsion system, by introducing two major innovations: the choice of a pump-jet, 20% more efficient than classic propulsion, and its implementation by two complementary electric motors to cover the vessel's speed and range envelopes with the best performance. "The effectiveness of this hybrid architecture is 15% higher than that of a single motor with a direct beneficial effect on autonomy."

A series of measures also contributes to the energy optimization of the ship: adoption of fuel-efficient combustion engines, replacement of lead-acid batteries with lithium-ion batteries twice as efficient, low energy lighting, etc... In order to avoid solid or liquid waste release during the missions, it was decided remove the garbage disposal unit (it is replaced with a sterilization-grinding process then stored under vacuum for solid waste. Liquid effluent are treated or recycled). The gaseous emissions are minimized through recirculation.

SEPIA also makes extensive use of lighter and less polluting materials:
» Silicone based hull coating (with the advantage of a less resistance in the water)
» Composite pipes
» Aluminum based electrical wiring

The combination of these different technological solutions proved particularly satisfactory: "The SEPIA concept not only meets the goals of a 35% reduction in environmental impacts, but it could also provide superior operational performances compared to those of conventional submarines, both in terms of self-economy and total cost of ownership."

SEPIA was unveiled in November 2012 during the SIA (Submarine Institute of Australia) international congress and was recognized as one of two most outstanding presentations among fourty candidates.

Ecodesign applied to submarines is not just about environmental advantages, it is also an effective and unique way to improve the overall performances of the ship
Picture: DCNS