a
World Navy Force News - USA
US Navy commissions USS California nuclear submarine latest of Virginia class
The Navy commissioned its eighth Virginia-class submarine, USS California (SSN 781), during a ceremony held at Naval Station Norfolk Oct. 29. More than 1,500 people attended the ceremony at the naval station, while others viewed it live on the Internet. Rep. Buck McKeon of California, House Armed Services Committee chairman and the ceremony's keynote speaker, welcomed California to the fleet and reminded the crew of the important role they will play in protecting the nation's security.

"Members of the crew: always keep your eyes and your ears open," said McKeon. "Remember your oath and your creed. This nation depends on you and your stewardship of the California. Remember, you are the quiet warriors. You are the silent sentinels. You are the shield around us. You are the chosen few."

Also on hand for the commissioning was Chief of Naval Operations (CNO) Adm. Jonathan Greenert, who also spoke about the California crew.

"What this is all about is the Sailors who volunteer to serve," said Greenert. "Your actions reflect our proud heritage and tradition. I am proud of you and I'm proud to serve with you."

Greenert also focused his remarks on how today, this event and this submarine reflected his tenets: Warfighting First, Operate Forward and Be Ready. He also pointed out the fiscal judiciousness of the builders.

"I challenged them (Huntington Ingalls Industries-Newport News Shipbuilding) at the christening to deliver on time and on budget," said Greenert. "They did it."

The builders delivered the submarine eight months early and under budget.

California, the most modern and sophisticated attack submarine in the world, can operate in both littoral and deep ocean environments and presents combatant commanders with a broad and unique range of operational capabilities.

"The Navy and our CNO have been waiting. USS California is the first ship to be commissioned on Admiral Greenert's watch as our new CNO. You are the first warship indelibly marked with his sailing directions from our very birth. He expects you to maintain our superiority in the undersea domain," said Commander, Submarine Forces, Vice Adm. John M. Richardson.

With the traditional first order, "Man our ship and bring her to life," the Navy's wait was over.

"Today, I am excited to receive yet another platform of undersea superiority," said Greenert, "a platform deployable anytime, anywhere, capable of owning the undersea domain."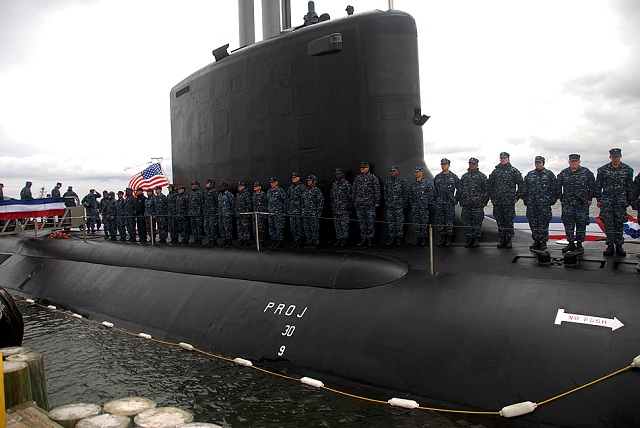 USS California
(picture: US Navy)
Greenert is not the only one who has been anticipating California's official arrival.

"Our allies have been waiting. Because they know that you'll soon be on patrol, in the cold, deep, and quiet waters of the arctic to the shallow, warm, crowded waters of the tropics. And they gain assurance knowing that you are a force for good - keeping the global economy flowing freely over the ocean trade routes," said Richardson.

Richardson added that there are some who have not looked forward to the day California would join the submarine force.

"Many have been wishing this day would never come," he said. "Those who would deny freedom, those who oppose our national interests and our calling to protect the right to life, liberty and the pursuit of happiness - this is a day that will keep them awake at night."

California will directly enable five of the six Navy maritime strategy core capabilities - sea control, power projection, forward presence, maritime security, and deterrence.

As the Navy's newest Virginia-class submarine, California will support these capabilities for years to come.

"California has many decades of service ahead," Richardson said, "but we can't afford to lose a single moment. We need California on the front lines now."

California is designed to excel in anti-submarine warfare; anti-ship warfare; strike warfare; special operations; intelligence, surveillance, and reconnaissance; irregular warfare; and mine warfare missions.

The submarine is 377 feet long, has a 34-foot beam, will be able to dive to depths greater than 800 feet and will operate at speeds in excess of 25 knots submerged

Construction on California began February 2006; the submarine's keel was authenticated during a ceremony on May 1, 2009, and she was christened during a ceremony Nov. 6, 2010.

Cmdr. Dana Nelson is California's first commanding officer. Nelson leads a crew of about 134 officers and enlisted personnel. A native of Clinton, Conn., he graduated from the U.S. Naval Academy in 1992, earning a Bachelor of Science degree in Aerospace Engineering.

Donna Willard, wife of Commander, U.S. Pacific Command, Adm. Robert F. Willard, serves as the submarine's sponsor. She broke the traditional champagne bottle against the boat's sail during the christening ceremony last November. Her initials were welded into a plaque inside the boat during last year's keel-laying ceremony.

California is the seventh Navy ship, and first submarine, to be named in honor of the people of the Golden State. The most recent USS California was a nuclear-powered guided missile cruiser (CGN 36) that was in service from February 1974 to July 1999.
Source: U.S. Navy www.navy.mil