a
Zumwalt class Destroyer (DDG 1000)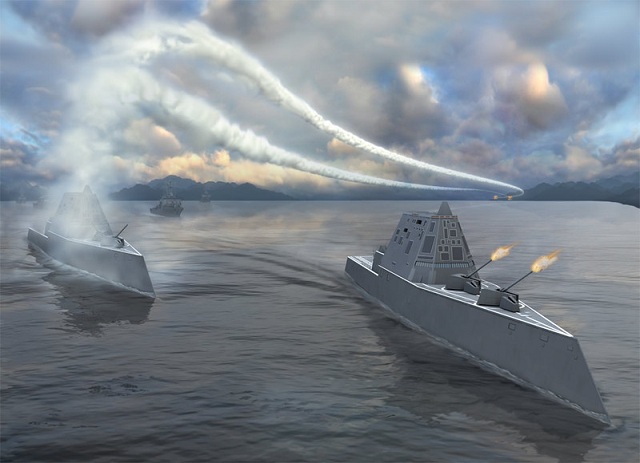 The DDG 1000 Zumwalt class destroyer is the US Navy next generation, multi-mission, naval destroyer, serving as the vanguard of an entire new generation of advanced multi-mission surface combat ships. The class is a scaled-back project that emerged after funding cuts to the larger DD-21 vessel program. The program was previously known as the "DD(X)".

The multi-mission DDG 1000 is tailored for sustained operations in the littorals and land attack, and will provide independent forward presence and deterrence, support special operations forces, and operate as an integral part of joint and combined expeditionary forces.

This warship integrates numerous critical technologies, systems and principles into a complete warfighting system. These include employment of optimal manning through human systems integration, improved quality of life, low operations and support costs, multi-spectral signature reduction, balanced warfighting design, survivability, and adaptability.

Each ship features a battery of two Advanced Gun Systems (AGS) firing Long-Range Land Attack Projectiles (LRLAP) that reach up to 63 nautical miles, providing a 3-fold improvement in naval surface fires coverage. DDG 1000 will employ active and passive sensors and a Dual-Band Radar (DBR) suite capable of conducting area air surveillance, including over-land, throughout the extremely difficult and cluttered sea-land interface. DDG 1000 will have a significantly reduced cross section reduction as compared to current destroyers and a much greater operating area in shallow water regions against mines. Zumwalt features increased stealth through a composite superstructure, integrated multi-function mast, and reduced acoustic signature.

As of now, three Zumwalt class Destroyers are to be built. The Navy expects each ship to cost nearly $3.3 billion. The US department of defense's proposed 2010 budget called for three DDG-1000 ships to be produced.

Shiplist
| | |
| --- | --- |
| Name | Hull Number |
| USS Zumwalt | DDG-1000 |
| USS Michael Monsoor | DDG-1001 |
| USS Lyndon B. Johnson | DDG-1002 |
Variants:
Technical Data

Back to top
Critical Technologies
Advanced Gun System (AGS)
To achieve an increased rate of fire and improved lethality while reducing operational crew headcount, the Zumwalt-class destroyer will employ the Advanced Gun System (AGS). A battery of two 155mm AGSs, firing-rocket assisted Long-Range Land Attack Projectiles (LRLAP) will provide precision strikes and volume fire at a range of up to 83 nautical miles. This system is equivalent to twelve 155mm howitzers and will see a three fold improvement in naval surface fire coverage when compared to current capabilities.
Autonomic Fire Suppression System (AFSS)
An advanced automated damage-control system combines sensors, cameras and automated firefighting capabilities to ensure that the Zumwalt has the fastest possible response time to life- and ship-threatening events. This system improves survivability in both peacetime and wartime while reducing the number of crewmembers needed for damage control.
Dual Band Radar (DBR)
The Zumwalt DBR integrates S-band and X-band radar capabilities in a single system. It delivers true multi function performance, simultaneously supporting self-defense/anti-air warfare, situational awareness, land attack, naval gunfire support, surface search, navigation and air traffic control. The DBR's innovative software design allows automatic operation with minimal human intervention.
Integrated Composite Deckhouse & Apertures (IDHA)
Constructed of rugged, lightweight composites, the angular deckhouse increases stealth by minimizing radar reflectance. The surfaces of the Zumwalt's deckhouse incorporate all radar apertures and communication antennas, eliminating high-profile masts and rotating antennas.
Integrated Power System (IPS)
The Zumwalt Destroyer is often called an all-electric ship. The efficient, quiet and economical design of the IPS generates all the energy needed for propulsion, electronics, combat, environmental and other ship systems.
Integrated Undersea Warfare (IUSW)
The IUSW incorporates two types of sonar arrays in one automated system. The high frequency sonar provides in-stride mine avoidance capabilities, while the medium frequency sonar optimizes anti-submarine and torpedo defense operations. The use of sophisticated target algorithms better enables the Zumwalt Destroyer to engage enemy submarines and, at the same time, minimize crew headcount requirements.
MK57 Vertical Launching System (VLS)
The advanced MK57 Vertical Launching System can accommodate both existing and future missiles for land attack, anti-ship, anti-submarine and anti-air warfare. Its modular electronic architecture allows the Zumwalt Destroyer faster, more economical migration to new missile systems by minimizing the need to requalify the launcher for every new missile, or to modify launcher control software and hardware.
Peripheral Vertical Launch System (PVLS) / Advanced VLS
A system of armored compartments located around the periphery of the Zumwalt. Each PVLS compartment contains and protects one MK57 Vertical Launching System. This design makes launchers and missiles resistant to battle damage while safely isolating them from crew and equipment spaces. Raytheon is teamed up with BAE Systems for the development of the PVLS.
Total Ship Computing Environment (TSCE)
The TSCE is the first large-scale implementation of the U.S. Navy's Open Architecture strategy. Designed to bind all Zumwalt systems together, the TSCE creates a shipboard enterprise network allowing seamless integration of all on-board systems. It also gives the Navy increased ability to use standardized software and commercial-off-the-shelf (COTS) hardware on a fleet-wide basis.
Wave Piercing Tumblehome Hull
The tumblehome (inward sloping) hull minimizes the Zumwalt-class destroyer's radar cross section for enhanced stealth and survivability. Driven by a quiet and efficient all-electric propulsion system, the hull design optimizes speed, maneuverability and stability while minimizing engine noise and infrared signatures.
Weapons
Missiles: (20x MK 57 VLS modules / 80 cells total)
RIM-162 Evolved Sea Sparrow (ESSM) surface to air missile
Tomahawk cruise missile
RUM-139 VL-ASROC anti submarine rocket

Guns:
2 × 155 mm Advanced Gun System (main gun) with Long Range Land Attack Projectile (LRLAP)
2 × Mk 110 57 mm gun
Sensors, Electronics and Decoys
AN/SPY-3 Multi-Function Radar
Hull-mounted mid-frequency sonar (AN/SQS-60)
Hull-mounted high-frequency sonar (AN/SQS-61)
Multi-function towed array sonar and handling system (AN/SQR-20)
Propulsion
Converteam's Advanced Induction Motors (AIM) electric propulsion
Specifications

Back to top
Type

Multi-mission/Land attack Destroyer

Crew

140



Operators

US Navy



Performance

Top Speed: 30+ kts
Range: N/A
Endurance: N/A

Displacement

14,798 t

Engines

2 Rolls-Royce Marine Trent-30 gas turbines and emergency diesel generators, 78 MW (105,000 shp)

Aircraft

Hangar for 2 mid-size helicopters (10 tons class)
and 3 VTUAV (MQ-8 Fire Scout)

Dimensions

Length: 180 m
Breadth: 24.6 m
Maximum Draft: 8.4 m


Back to top