a
Naval Defense Industry News - Hyundai WIA at Indodefence 2014
At Indodefence 2014, South Korean company Hyundai WIA showcased its K-76L/62 76mm naval gun
Hunydai WIA of South Korea was showcasing its 76mm naval gun system during Indo Defence 2014, the international defence exhibition held in Jakarta in November. Talking to a WIA representative, Navy Recognition learned that this naval gun has already been selected by the Republic of Korea Navy (ROK Navy): Seventeen are being fitted on the "PKG" Gumdoksuri-class patrol vessel and one will be fitted onboard the 'MLS-II' anti-submarine minelayer currently being built by Hyundai Heavy Industries.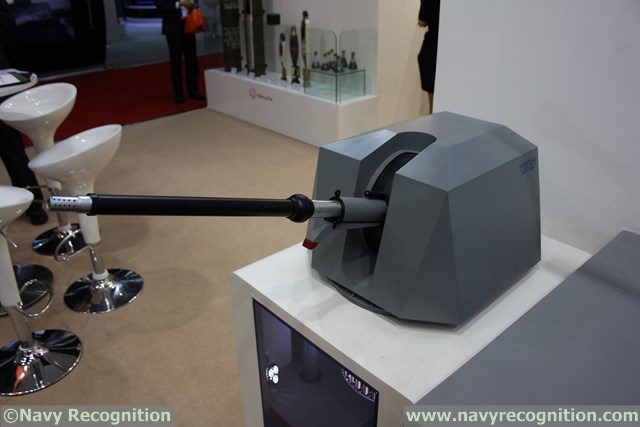 76mm naval gun scale model on Hyundai WIA stand at Indo Defence 2014

Sang-Cheol Han, sales manager of the defense division of WIA, explained to us that while some of the components of the gun are the same as on the Oto Melara naval guns (such as the barrel), most other subsystems are self designed and built such as the reloading system and control station, the hydraulics etc.

The carbon composite cupola of the gun has been improved: We were told that thanks to the new design, the WIA 76mm gun has radar cross section (RCS) about 80% smaller compared to the 76mm Compact by Oto Melara. We were also told that this gun has an improved rate of fire compared to its Italian counterpart (100 rounds per minutes).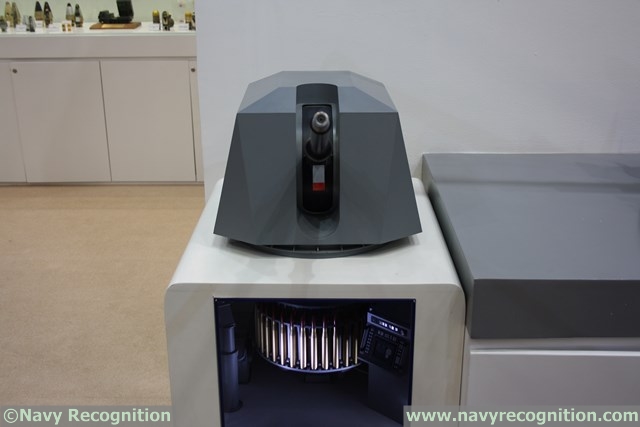 The K-76L/62 is fully digital controlled and comes with an auto-loader with 80 ready to fire rounds
The 76mm naval gun by Hyundai WIA is light weight (less than 8,900 kg) and compact which makes it suitable for installation on small vessels. The gun comes with an auto-loader with 80 ready to fire rounds. The turret has an elevation of -15 degrees and +85 degrees vertical and 360 degrees horizontal. The range of the gun with standard ammunition is 16.3 km (8.8 nautical miles).

In addition to the K-76L/62 (which is its own design), Hyundai WIA is also producing under license:
» The KMK45 5 inch (127mm)
» The 57mm MK3
» The 40mm MK3
» The 30mm Goalkeeper CIWS