a
Sea-Air-Space 2015 - Proteus Dual Mode Underwater Vehicle
HII Battelle & Bluefin Robotics are showcasing the unique Proteus DUMV at Sea Air Space 2015
A unique innovation is showcased on the Huntington Ingallls Industries (HII) booth at the Navy League's 2015 Sea-Air-Space Exposition: The Proteus Dual Mode Underwater Vehicle (DUMV). Developed by Undersea Solution Group (which was acquired by HII in January this year), Battelle and Bluefin Robotics, the Proteus is the only underwater vehicle that has a dual capability: Autonomous Underwater Vehicle (AUV) and Swimmer Delivery Vehicle (SDV).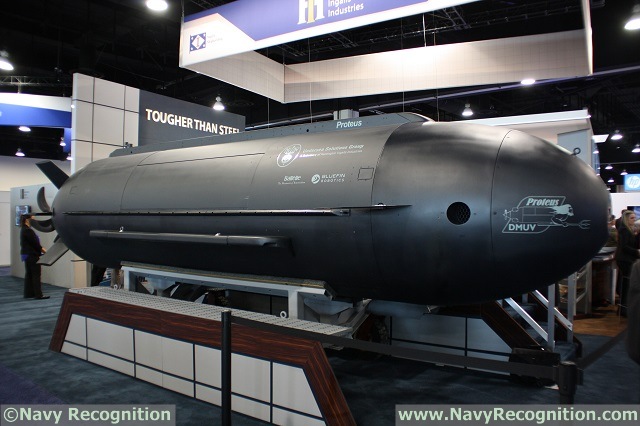 The Proteus on HII Booth at Sea Air Space 2015. Proteus is capable of operating as either a fully autonomous UUV, or as a wet manned submarine utilizing six diver's air stations to accommodate a team of operators. Proteus can also be fitted with an optional air module in the center cargo space, capable of supporting all six divers for a period exceeding 10 hours.

Based on the heritage of the SDV built by The Columbia Group and proven in operation with US Special Operations Forces Teams, Proteus is enhanced with cutting edge autonomy software and high energy density batteries by Bluefin Robotics to dramatically expand the capabilities available to users of underwater vehicles.

Navy Recognition learned during Sea Air Space 2015 that the Proteus is currently leased to the US Navy for developmental work. Launched in September 2012, it now has over 400 hours of in water test behind it. A company representative told us its payload (3600 lbs.) and range (classified) allows it to answer real world crisis. With a length of 25 feet, it was designed to fit inside the SSGN's extended dry dock shelter.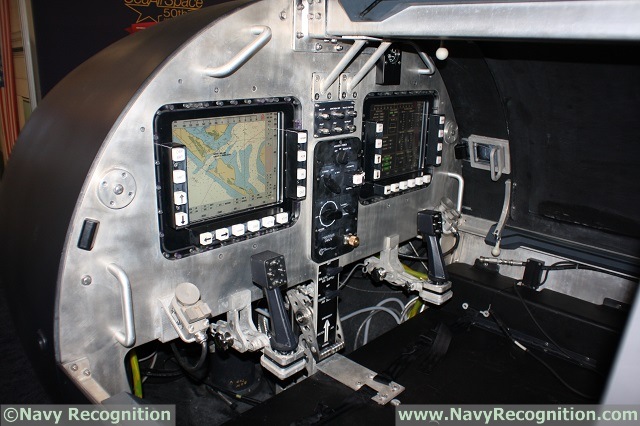 Inside view of the Proteus. It is fitted with Fly-by-wire (vs. mechanical) controls. Proteus is outfitted with through water voice and data acoustic communications systems, an Iridium satellite communications system and voice and data radios. A hard-wired internal diver's intercom is included for manned operations.

The vehicle can be used for a variety of tasks including: payload integration and test; advanced autonomy development; long range and duration trials; transporting and installing equipment on the sea floor; inspecting undersea infrastructure such as bridge pilings, subsea pipelines and oil rigs; and transporting divers and cargo.

Compared to conventionally-sized UUVs, Proteus can carry much larger payloads and cover much greater distances than has previously been possible, and it's energy capacity markedly reduces the need for frequent launch and recovery.