a
Sea-Air-Space 2015 - US Navy V-22
Sea Air Space 2015: Bell Boeing V-22 Osprey for U.S. Navy Carrier Onboard Delivery Mission
During Sea Air Space 2015, Colonel Dan Robinson, NAVAIR V-22 Program Manager, gave the latest on U.S. Navy variant of the V-22. It was made publich in February this year that the U.S. Navy would procure the Osprey to answer its future Carrier Onboard Delivery requirements. As of now, the U.S. Navy is planning on procuring 48 Ospreys.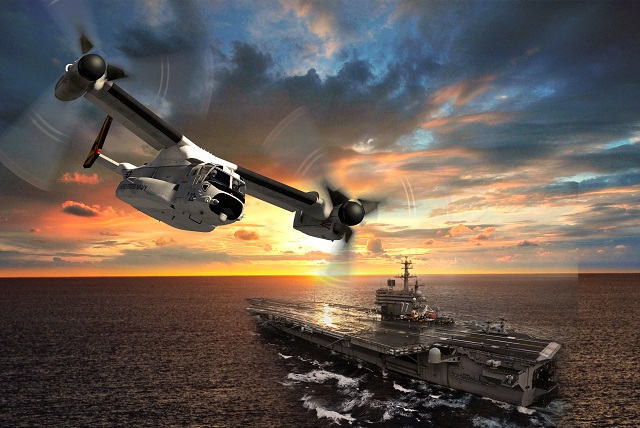 Artist impression showing a US Navy V-22 in a COD mission. Image: Bell

The Osprey typical Navy missions will include:
- Sea Based Logistics (including COD)
- Personnel recovery (including SAR)
- Special warfare (with US Navy Seals)

According to Bell, the V-22 Osprey combines fixed-wing speed and range with helicopter utility making it the ideal Carrier Strike Group (CSG) logistics delivery asset, enabling a full range of rapid logistics direct-delivery options. Proven with more than 195,000 fleet flight hours to date, V-22 performs missions in the most challenging environments on the planet - including shipboard operations. V-22 keeps acquisition risk low by avoiding costly aircraft development and leveraging an active production line. With an award-winning sustainment solution and a growing, jointly interoperable aircraft fleet of more than 400 aircraft by 2019, the V-22 COD solution delivers cutting edge technology to the CSG in an affordable and capable package.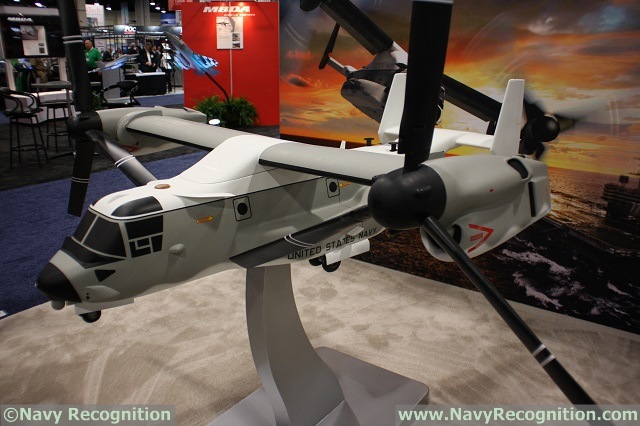 V-22 Osprey model in US Navy colors on display at the Bell booth during Sea Air Space 2015

V-22 does more than COD, carrier only delivery, by introducing new elements of responsiveness and operational flexibility to the CSG with Tanker configurations in development and multi-mission capabilities raging from Special Operation to Disaster Relief.

According to USMC Col. Dan Robinson, the US Navy is studying options to increase the range of the legacy V-22. The likely solution will be to increase the size of the external sponsons to fit more fuel inside. This would be the only physical difference with legacy V-22. The official Navy designation has yet to be selected.