a
Naval Forces News - Russia
Russia could bring back in service Mi-14 Haze anti-submarine helicopter

The Russian Navy has reportedly expressed interest in resurrecting the once-feared nuclear-capable Mi-14 anti-submarine helicopter. In the 1990s, Washington insisted on their decommissioning, along with strategic bombers and ballistic missiles. The Mil Mi-14 (NATO reporting name: Haze) is a Soviet anti-submarine helicopter which is derived from the earlier Mi-8.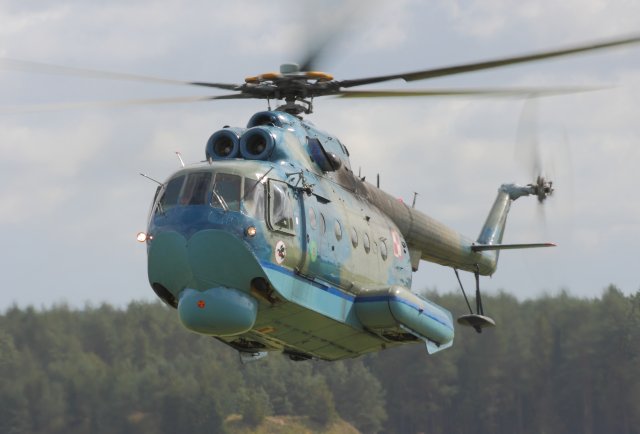 Polish Navy Mi-14PL Haze-A
Business Online media outlet from Russia's Republic of Tatarstan, where the Mi-14 was produced, says that its capital's Kazan Helicopter Works (KVZ) is preparing to return the Mi-14 to the Russian Navy. KVZ has not commented on the news, but a source within the works says the re-commissioning issue has been raised.
The Mil Mi-14 is a shore-based amphibious helicopter armed with (optionally) a torpedo, twelve 64kg or eight 120kg depth bombs. This submarine killer also had very special ammo in its arsenal: a 1 kiloton nuclear antisubmarine bomb weighting 1,600kg, capable of scuttling any underwater target within a radius of 800 meters.
The chopper not only had a unique capability of landing on water, but was an all-weather long-range helicopter capable of operating as far as 300km offshore.
The helicopter could stay airborne for 5.5 hours and cover a total distance of 1,100km.
Its sonars, magnetometers, hydroacoustic beacons and other special submarine-tracking equipment were highly-advanced and effectively detected all types of submarines. Once spotted, a sub was doomed and could not escape.
The Americans took Mi-14 on a special notice after an incident in late 1980s, when an unidentified foreign submarine, presumably of the US Navy, was detected in the Soviet territorial waters. The intruder was allowed to leave unharmed only because the actual command to eliminate the border violator never came, Business Online reported.
The Mi-14 was so good at submarine hunting that in 1996, under tremendous pressure from Washington, all Russian antisubmarine version Mi-14 helicopters were decommissioned.
With the Russian Navy undergoing massive re-equipment, Mi-14 would allegedly be highly sought after by the Black Sea and the Northern Fleets.
The helicopter can also be used at offshore oilfields and for rescue operations at sea.
The initial demand for the aircraft is reportedly estimated at 100 helicopters.
Experts believe, the re-commissioning of the amphibian helicopter could be done within two years in several stages. First stage implies restoration of 10 decommissioned Mi-14s, then they will undergo deep modernization, and the third stage will be essentially the return to production line, which might reportedly take up to five years.
The new version of Mi-14 is likely to get new engines, advanced avionics and modern electronics. It is expected that modern version of Mi-14 will have better floating stability than its forebears.