a
Naval Forces News - France
Update to French Military Planning Law Means New Capabilities for Lafayette Class Frigates
The French Ministry of Defense just released an update to its Military Planning Law (Loie de Programmation Militaire) with some impact for the French Navy fleet:
Lafayette class frigates
will be fitted with sonars and
FREMM
and FTI Frigates programs will be accelerated.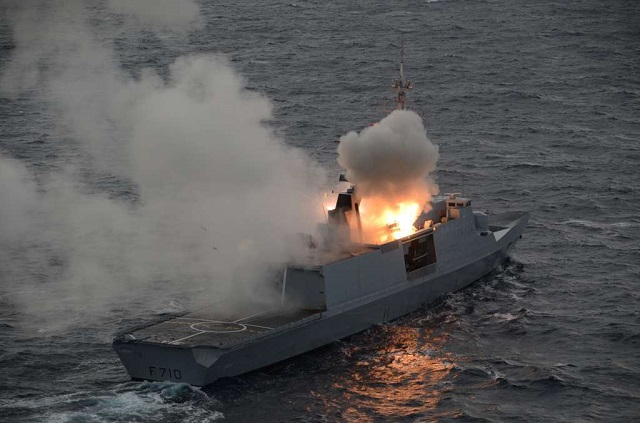 The French Navy Lafayette frigate (designated light stealth frigate in the French Navy) is seen here launching its salvo of two MM40 Block II anti-ship missiles. Picture: French Navy

Excerpt from the French MoD Document (unofficial translation).


By the 2014-2019 timeframe, in addition to their capacity dedicated to the protection of our Maritime approaches and state action at sea, our naval forces will experience an important transformation in regards to anti-submarine warfare, action on land and sea control. The combined effect of increased level of commitment of our naval forces on 5 deployment areas, the increased requirements against the terrorist threat, the impact of export contracts (including Egypt) induce adjustments to match the original plan.

Carrier Strike Group
The second major technical refit of the aircraft carrier Charles de Gaulle will begin in 2017. In addition to reloading nuclear cores this refit will be put to use to perform an operation for the maintenance of key operational capabilities and adaptation to a carrier strike group centered on the Rafale, consecutive to the final withdrawal of Super-Etendard Modernisé in 2016.

SSN
At the end of 2018, the first of six new Barracuda type nuclear submarines, replacing Ruby, will be delivered and accepted for active service. The Barracuda will present multi-role capabilities in addition to intelligence capabilities with heavy torpedo, the naval cruise missile (MdCN) and, where necessary, combat swimmers.

Frigates
The construction and admission to active duty of multi-mission frigates (FREMM) started before 2014 will continue: 6 will be delivered before mid-2019. The next two, delivered in 2021 and 2022, will have enhanced capacity to replace the two Cassard class air defense frigates. Rounding up to a capacity of 15 first-class frigates and comply with the principle of differentiation, a new program of "intermediate size frigates" (FTI) is advanced, with a target of first delivery in 2023.
In this context, a renovation program for the Lafayette class stealth frigates will be launched during the period: Renovations will be carried out over the scheduled technical shutdowns. These frigates renovation will consists (among other things) in the fitting of a sonar system. They will carry out the tasks arising from operational contracts in the transition phase that will accompany the delivery of future midsize frigates (FTI).
The FREMM will be fitted with naval cruise missile (MdCN) from 2015, the anti-ship missile Exocet MM 40 B3 extended range, anti-submarine torpedo MU 90, NFH90 ASW helicopter and ASTER air defense missile.

Logistical fleet
The Flotlog logistics fleet intended to replace existing replenishment oilers and other support vessels will include 3 units, the first of which will be commissioned at the end of the period.

MPA
The first modernized maritime patrol aircraft ATL 2 will be dedelivered in 2018 and the second in 2019 (out of the fifteen planned).

ASW Helicopter
The NFH90 (Nato Frigate Helicopter) "combat" variant is fitted on board FREMM and Horizon frigates. The Caiman also plays an active role in sea rescue missions in its "support" variant. To ensure these missions 27 NFH90 are being delivered. The first 24 will be delivered before the end of this military planning law.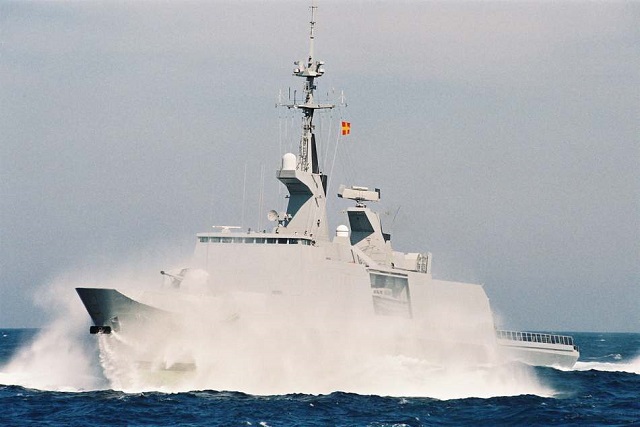 Lafayette frigate. Picture: Marine Nationale / Emmanuel Rathelot

In addition, it has to be noted that a fourth
B2M vessel
will be ordered (as French Defense Minister implied in February) as well as four offshore support vessels (BSAH program). French MoD also decided to speed up the procurement of a ninth FREMM Frigate compared to what was originally planned.
Finally, it is not clear yet what the Lafayette class frigate modernization program will consist in. French MoD only mentions "the fitting of a sonar among other things". Contacted by Navy Recognition, the French Navy, DCNS or French Procurement Agency could not make any comment. The possiblity of the class fitted with new radar and vertical launch surface to air missiles appear slim however. It is not clear yet if the sonar will be hull mounted or towed, however Thales' CAPTAS 2 variable depth sonar is a strong possibility.
With such an equipment (VDS sonar),
Navy Recognition
understands that Lafayette class Frigates (which are currently all based in Toulon, in the Mediterranean fleet) could be based in Brest in the future (French Navy Atlantic Fleet) for a new mission: securing the underwater maritime zones when French Navy SSBNs (also based near Brest) deploy on their patrols.