a
Naval Defense Industry News - Thales
Thales to equip British Merlins with enhanced Searchwater radar and Cerberus mission system

Following an industry competition, Lockheed Martin, who act as the Ministry of Defence's prime contractor for the Merlin helicopter have selected a new generation of the Thales Searchwater radar and Cerberus mission system to be fitted to specially adapted Merlins to provide the Navy with an airborne surveillance and control capability (ASaC).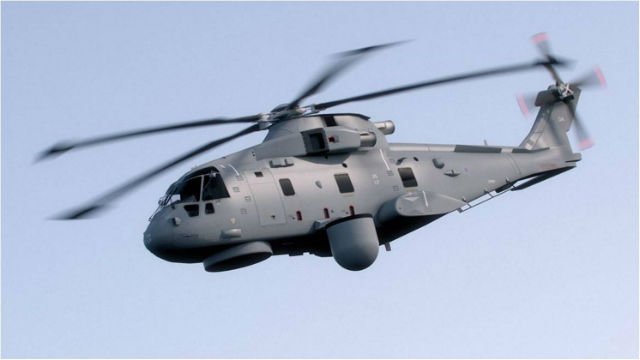 Thales will provide Searchwater and Cerberus systems for the Royal Navy's Crowsnest airborne surveillance and control (ASaC) capability
The fleet of Merlin helicopters will replace the Royal Navy's outgoing Sea King Mark 7 ASaC force which is fitted with an earlier version of the Searchwater and Cerberus systems. The new capability will enter operational service in 2018 when the last of the Sea King ASaC helicopters are retired.
"The Thales Searchwater-Cerberus combination has proved to be a critical asset not only for maritime force protection and air surveillance but also for coalition forces on land operations in Iraq and Afghanistan. The CROWSNEST capability builds on a trusted system to meet threats that the Royal Navy will face over the forthcoming years. Through new innovative radar modes and improved performance against low radar cross section targets, the Royal Navy will have a world class rotary-based platform to protect the new aircraft carriers, the fleet and Joint forces," said Victor Chavez, CEO of Thales UK.
Thales' winning solution will maximise the re-use of the Ministry of Defence's existing investment in equipment, training and expertise by upgrading, updating and adapting a battle proven capability, ahead of operational timescales.
Improvements to the Royal Navy's new system include enhanced performance and data processing, as well as the addition of new modes to the operationally proven, high-powered multi-mission radar. An improved human machine interface, reduced weight and built-in training features have all been designed to future proof the highly successful system. It will also be capable of being fitted to both rotary and fixed-wing platforms.
Originally designed for maritime airborne force protection, the advanced multi-mode radar and sensor systems have proved an invaluable surveillance asset, capable of detecting and tracking multiple targets over land, air and sea. As a result the fleet has a noteworthy history of force protection extending from anti-piracy operations in the Indian Ocean, to Iraq in 2003 and more recently in Afghanistan from 2009 to 2014; additionally, the system provided crucial airborne surveillance and control for the 2012 Olympic Games.