a
Naval Forces News - Brazil
Embraer Defense & Security delivers the first modernized AF-1B jet fighter to the Brazilian Navy
Embraer Defense & Security held the delivery ceremony, today, of the first modernized AF-1 (AF-1B) fighter jet to the Brazilian Navy at its industrial plant in Gavião Peixoto, in outstate São Paulo. The ceremony was attended by the Navy Commander, Fleet Admiral Eduardo Bacellar Leal Ferreira, and officers of the High Command of the Brazilian Navy. The AF-1 program (the name given by the Navy to the McDonnell Douglas A-4 Skyhawk) provides for the revitalization and modernization of 12 subsonic jets – nine AF-1 single-seaters and three AF-1A two-seaters.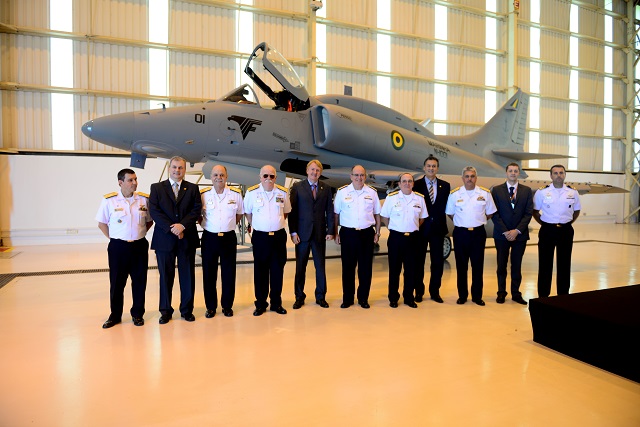 Representatives from Brazilian Navy´s High Command and Embraer Defense & Security celebrates the delivery of the first modernized AF-1B in Gavião Peixoto

The AF-1 is an intercept and attack airplane operating from an aircraft carrier to provide air defense for the fleet. These modernized Navy jets received new navigation, weapons, power, tactical communications and sensor systems, plus computers and multimode state-of-the art radar. This equipment, along with the structural work that was performed, will make it possible for these jet fighters to continue operating until 2025. Embraer's modernization program also includes supplying briefing and debriefing stations that are already being used for the training and proficiency of pilots of the VF-1 Falcão Squadron, in order to improve their use, to reduce costs, and to bring greater effectiveness to mission planning and execution.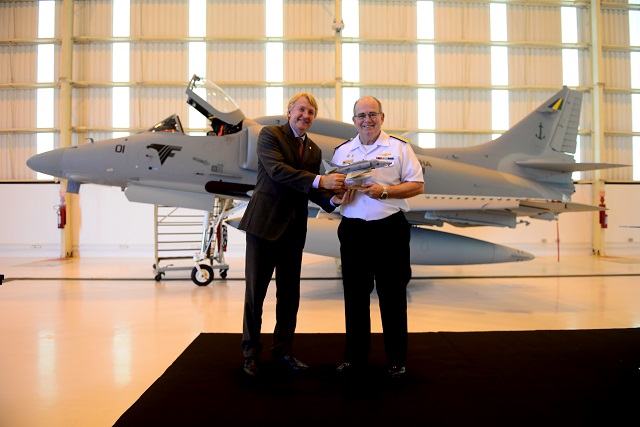 (L-R) The President of Embraer Defense & Security, Jackson Schneider, delivers a model of the first modernized AF-1B to Brazilian Navy Commander, Admiral-of-Fleet Eduardo Bacellar Leal Ferreira

"For the Brazilian Navy, the modernization of the AF-1 aircraft at Embraer is another important step in capacitating base of Brazil's defense industry, and the results achieved will allow Naval Aviation to operate an aircraft with state-of-the-art sensors and equipment, representing a large forward leap in the Navy's capacity," said Fleet Admiral Eduardo Bacellar Leal Ferreira, Navy Commander.

"This is the first contract for systems integration that we have signed with the Brazilian Navy and, therefore, is a landmark in our relations," said Jackson Schneider, President and CEO of Embraer Defense & Security. "The modernization of the AF-1 was a significant technological challenge, since it is a platform that we did not develop. Nevertheless, with the support and competence of the staff of the Brazilian Navy, we were able to deliver a solution that fully meets the operational needs of our client in demonstration of our commitment to the Navy's projects."