a
Naval Industry News - France
DCNS is Preparing The Next Refit of the Charles de Gaulle Nuclear-Powered Aircraft Carrier
DCNS is the sole prime contractor for Major Technical Shutdown No. 2 of the Charles de Gaulle aircraft carrier, scheduled for the start of 2017. The Group has been actively preparing for this over the last few years, through the progressive ramping up of this exceptional project. This operation is being implemented in close cooperation with the DGA (French armament procurement agency), the French Navy's Fleet Support Department and the aircraft carrier's crew. This cooperation with the crew is particularly important because they will actively participate in the vessel's maintenance and renovation work. This operation represents three major industrial challenges for one of the French navy's flagships, detailed below.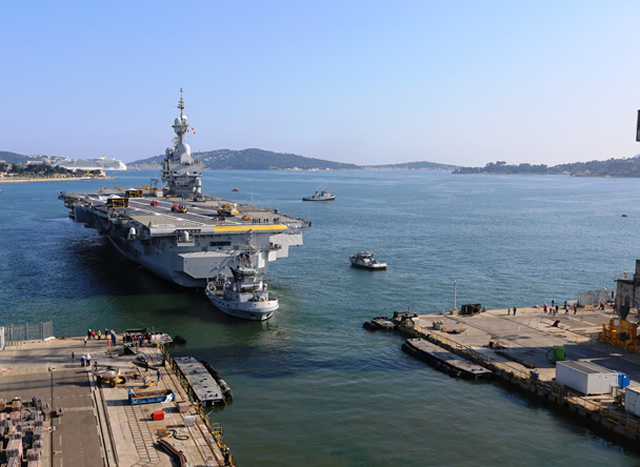 "Between 400 and 2000 persons will be working to prepare the maintenance and renovation of the Charles de Gaulle aircraft carrier." Picture: DCNS
Reinstating the platform's potential
DCNS will perform the ten-year through-life support work of the vessel to reinstate the potential of all its installations. In particular, the reactors will be inspected and the fuel replaced, the shaft lines will be inspected, maintenance work performed on the catapults, the machinery will be inspected and the air conditioning systems and a galley will be renovated.

Modernizing the combat system
During the technical shutdown, the DCNS teams will also renovate the combat system. This involves several operations related to changes in the IT networks and the deployment of measures to secure the IT systems. Various changes to the sensors, early-warning radars, navigation radars, infrared sensors and optronic camera, as well as the renovation of the communications system, are scheduled. Carrying the SENIT will also require refurbishing the control room.

Ensuring the transition to "all-Rafale" operations by optimizing the platform
Finally, work will be undertaken to adapt the vessel to the new carrier air wing, with a transition to "all-Rafale" operations further to the withdrawal from active service of the modernised Super Etendard. Several systems and installations will be replaced and upgraded: deck-landing aid installations and target-motion systems. Furthermore, the centralized installation supervision system, the fault management support systems and the platform's control PLCs will also be modernized to bring the aircraft carrier up to the highest technological standard.
An operation of this scale at the vessel's midlife point must be prepared several years ahead. As of today, over 400 persons at DCNS are working on the development of the future systems and are preparing the operations, with the number of persons peaking at 2000 during the technical shutdown itself.