a
Naval Forces News - USA
U.S. Navy Sailors Stand Ready For EMALS Launch Aboard Gerald R. Ford (CVN 78)
A few dozen Sailors from
Gerald R. Ford (CVN 78)
Pre-Commissioning Unit (PCU) have completed specialized training and stand ready to operate and maintain the Navy's newest aircraft launch system, slated to begin shipboard testing this summer.
Naval Air and Naval Sea System Commands — along with industry partner General Atomics (GA) — developed a comprehensive training program for Ford's PCU Air Department catapult and arresting gear V-2 division leadership and Sailors who will be part of the Electromagnetic Aircraft Launch Systems (EMALS) test program. The first crew graduated October 2014 from the GA-led course in Rancho Bernardo, California. Two additional PCU groups completed training sessions at the full-scale EMALS System Functional Demonstration site at Joint Base McGuire-Dix-Lakehurst in New Jersey in February and March.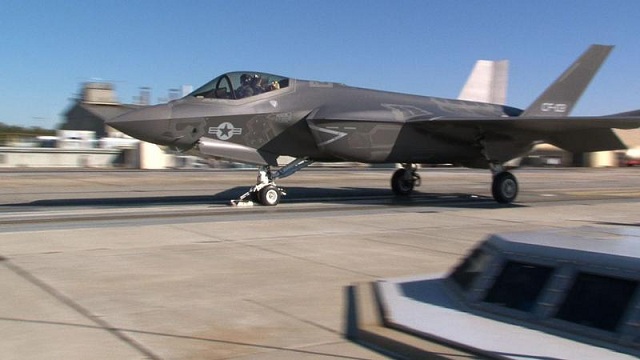 An F-35C Lightning II test aircraft piloted by Lt. Christopher Tabert launches for the first time from the new electromagnetic aircraft launch system. The new launch system will be installed on the aircraft carrier USS Gerald R. Ford (CVN 78). (U.S. Navy photo by David Sckrabulis/Released)
The EMALS training team has scheduled additional test site training sessions for late 2015 and early 2016.

"EMALS is such a leap in technology, using high voltage electromagnetic power rather than the steam that powers the legacy catapults, and extra caution and respect must be exercised during maintenance operations to ensure the safety of personnel," said Terry Hotz, EMALS Training Manager. "It's essential we provide excellent training to help them thoroughly understand the system."

Hotz and his team of training facilitators noted the Sailors were excited to work with the Navy's new launch technology and happy to get their hands dirty — so to speak — even as they endured sub-zero wind chills while exploring every nook and cranny of the fully-functional EMALS working site for the first time.

"The hands-on training was very effective and helped me to understand the equipment more," said Aviation Boatswain's Mate (Equipment) 1st Class Travis Tetting. He added that going through the system's Maintenance Requirement Card (MRC) and Interactive Electronic Technical Manuals (IETMs) also helped familiarize the PCU crew with the type of work they will be conducting aboard CVN 78.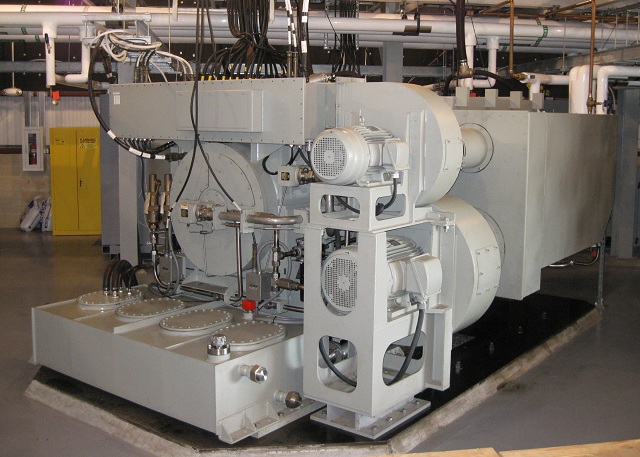 The Electromagnetic Aircraft Launch System (EMALS) motor generator stores energy in the inertia of its rotor and releases that energy upon initiation of the aircraft launch onboard carriers. EMALS completed shared generator testing at Joint Base McGuire-Dix-Lakehurst, N.J., today. EMALS is replacing the current steam catapult system on aircraft carriers, beginning with the Gerald R. Ford (CVN 78). (U.S. Navy photo)
CVN 78 will be conducting a series of tests launching dead-loads, or weighted sleds representative of aircraft, into Virginia's James River beginning this summer. This is one of many critical test events as the system continues on the path toward shipboard certification.

In addition to completing the training at Lakehurst, several Sailors attended specialized electrical safety courses in their homeport of Newport News, Virginia, and at the Calhoon Marine Engineers Beneficial Association School located in Easton, Maryland. In the future, the low- and high-voltage safety training curriculum will be part of the formal EMALS course at Navy schoolhouses.

"This is the ultimate to me … I never dreamt I'd be working on something like this," said Aviation Boatswain's Mate (Equipment) 1st Class Earl Fowlkes.

Like Fowlkes, many PCU Sailors expressed pride in being part of the first crew trained to support EMALS and offered resoundingly positive comments about the system's advantages.

"There will be much less wear-and-tear and there is going to be a huge cost-savings in the long-term with EMALS," said Master Chief Aviation Boatswain's Mate (Equipment) Eric Young, after completing training. "EMALS is less labor-intensive, more user-friendly, and much cleaner and easier as a whole."

Aviation Boatswain's Mate (Equipment) 1st Class Anthony Couitt said removing steam from the launch system will yield much cooler work and living spaces. "The steam pipes can raise room temperatures up to 120 degrees, so that aspect alone is a win for us," he said.

Many Sailors also commented that while noise is inevitable when launching aircraft from the deck of a carrier, EMALS' use of stored kinetic energy and solid-state electrical power conversion results in significantly quieter launches than those powered by steam.

"As our technology advances, so do the requirements on our Sailors. Instruction, learning and training simply never stops," said Stephanie Smith, EMALS assistant program manager for logistics, who interacted frequently with Sailors during training at the test site. "The men and women we met during these training sessions exemplified the integrity we've come to expect from today's Sailors."

Program officials said EMALS offers numerous advantages over the steam catapult systems that have been aboard the Navy's aircraft carriers for more than 60 years. EMALS features modular components, which makes removal and replacement of faulty parts a straightforward task, and the technology boasts a high-degree of computer control, monitoring and automation displayed to Sailors at the Maintenance Work Station (MWS) and Launch Control Monitor Station.

"I really like the MWS aspect of the new system," said Ford V-2 division officer Lt. Jared McCaleb. "You quickly know where the issue is and are able to get right down to fixing it. With the legacy system, there was a lot more troubleshooting to determine where the issue lies."

The Navy plans to field an IETM with the new system, leveraging engineering models to create a three-dimensional view of components that Sailors will be able to highlight, zoom, rotate and bookmark during maintenance procedures. The interactive manual also boasts a search function, allowing for quick and efficient access to detailed information such as illustrated parts breakdowns and wiring diagrams. These EMALS-related enhancements equip Sailors with a level of clarity not experienced before, program officials explained.

"There is a great deal of excitement surrounding EMALS and its imminent debut aboard the Ford," said Capt. Stephen Tedford, program manager for Aircraft Launch and Recovery Equipment (ALRE) Program Office (PMA 251). "This technology stands to enhance the future of naval aviation for the next half century and well-trained personnel are critical to its integration in the fleet and continued success."