a
Naval Forces News - Russia
Russian Navy Baltic Fleet Steregushchy Class Corvettes Destroy Simulated Enemy Ships in Gun Drill
Russian Navy Baltic Fleet
Steregushchy class corvettes
Boiky
and
Stoiky
(Project 20380) have destroyed practice targets simulating enemy vessels in a gun battle drill according to Russian news outlet TASS quoting the fleet spokesman Captain 2nd Rank Vladimir Matveyev.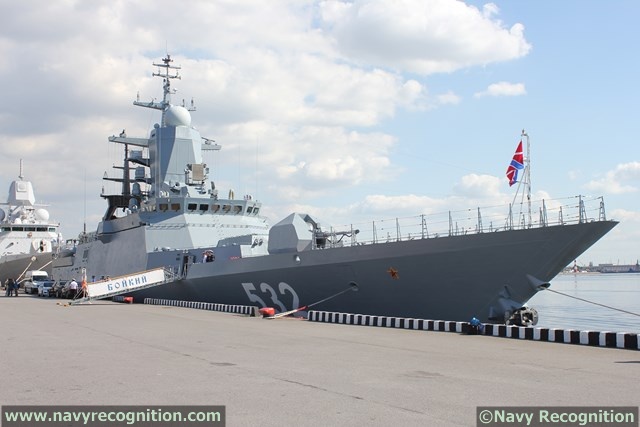 Steregushchy-class (Project 20380) corvettes Boiky of the Russian Navy Baltic Fleet
"The crews of the corvettes during the naval exercise drilled actions to repel potential enemy's attacks," said the officer.
According to him, the navy men from the Boiky and Stoiky corvettes have conducted more than 10 joint military drills with firing from the A-190 and AK-630 artillery systems. They also repelled the enemy's attacks from the air.
The Boiky and Stoiky ships are Project 20380 class corvettes, with a displacement of 2,000 tonnes and speed of 27 knots. The cruise range is 4,000 miles. These corvettes are armed, in particular, with the Uran anti-ship missiles and the Redut anti-aircraft missile system.
Currently, the Russian Navy has four Project 20380 corvettes, all of which are in the Baltic Sea. Two more ships are being built at the Amur Shipbuilding Plant for the needs of the Russian Pacific Fleet and should be commissioned this year.
Link to Project 20380 Steregushchy-class corvette technical datasheet