a
Naval Defense Industry News - Turkey, Pakistan
Aselsan STOP 25mm Remote Weapon Stations for Pakistan Navy Fleet Tanker Project

Turkish defense company Aselsan announced that an agreement regarding the Pakistan Navy Fleet Tanker Project for the need of the Pakistan Navy Forces, has been signed between with Savunma Teknolojileri Mühendislik ve Ticaret A.S. (STM), valuing Euro 4.685.000,-. Within this context, Aselsan will develop, produce and deliver Stabilized Gun System (STOP) and Communication Switch System (MAS) by 2016.

Aselsan STOP 25mm Remote Weapon Station. Picture: Aselsan

According to Aselsan, STOP is a new generation, cost-effective, medium caliber weapon system for naval platforms fitted with 25mm KBA or 25mm M242 Bushmaster Automatic Canon. The system provides lightweight, versatile and effective means of force protection for applications ranging from capital ships to patrol craft.

STOP has exceptionally high hit and kill probability with an impressive firepower comprising of a two-axis stabilized turret containing an electro-optical sensor suite and fire-control software. STOP is capable of acquiring targets and engaging them autonomously either via the ship's Combat Management System or by use of own sensors The optical sensor suite of STOP provides enhanced situational awareness and the ability to identify threats day or night, in all weather conditions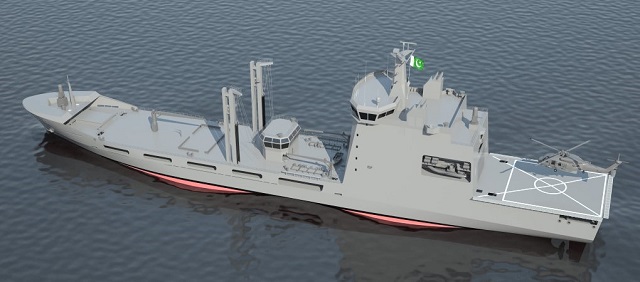 Pakistan Navy Fleet Tanker Project. Picture: Deltamarine

The Fleet Tanker (displacement of 15.600 tones, approximately length of 155 m, speed of 20 kts and with a replenishment-at-sea system (RAS / FAS) and a helicopter landing / take-off capability) will be completed in four years. The respective design activities have been performed in Turkey and shipbuilding and outfitting activities have been carried out by KS & EW in Pakistan with the kit of material transferred from Turkey.

The First Steel Cut Ceremony was conducted on 27 November 2013 and the Keel Laying Ceremony was conducted on 07 March 2014 much earlier than the project schedule.