a
Naval Industry News - USA
US Navy Completes Raytheon Laser-guided Maverick Testing
The U.S. Navy completed developmental and operational testing (DT/OT) of the newest variant of the Raytheon Company (NYSE: RTN) laser-guided Maverick missile. This brings U.S. Sailors and Marines one step closer to conducting airborne precision engagements of rapidly moving targets in urban environments.

"In numerous conflicts, Maverick has proven its effectiveness against ships, tanks, fast moving vehicles and fortified personnel," said Harry Schulte, vice president of Raytheon Missile Systems' Air Warfare Systems product line. "With the completion of DT/OT, Raytheon can begin producing and delivering this highly accurate weapon to the U.S. and coalition warfighter."

During four DT/OT tests, Navy and Marine Corps aviators fired four AGM-65E2 laser-guided Maverick missiles at moving and stationary targets from F/A-18C/D Hornets, F/A-18E/F Super Hornets and AV-8B Harriers. During one particularly challenging test, an AGM-65E2 was fired from a Harrier and accurately guided to a rapidly moving target via the laser designator of an AH-1Z Viper helicopter.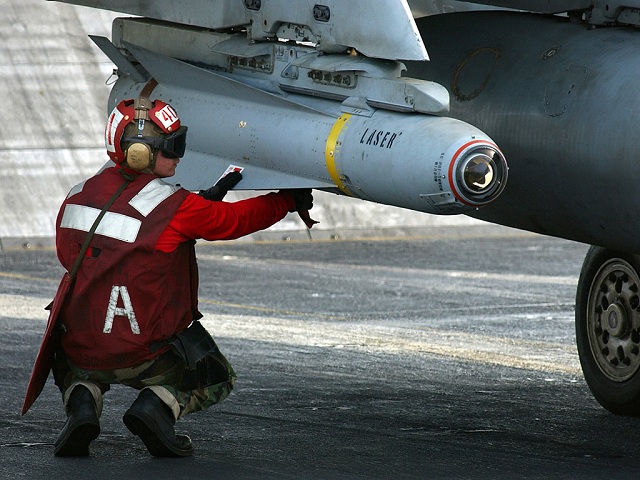 AGM-65L is the designation for the U.S. Air Force's new Laser Maverick; AGM-65E2 is the U.S. Navy and Marine Corps designation for their new laser-guided Maverick missile.
(picture: US Navy)

About the Maverick Family of Missiles
The laser-guided Maverick missile is a direct-attack, air-to-ground precision munition used extensively by the U.S. Air Force, Navy and Marine Corps in ongoing combat operations. The AGM-65E2/L has an enhanced laser seeker and new software that reduces the risk of collateral damage.

* Maverick is integrated on 25 aircraft and in the inventory of 33 nations.
* The AGM-65E2/L can use onboard, buddy and ground-based lasing to designate targets.