a
DSEI 2015 Naval Daily News - Thales
DSEI 2015: Thales Provides Innovative Submarine Sonar Training Service
Thales has announced at DSEI 2015 a new, innovative training solution for the Royal Navy that will offer a significant change in the way that submarine sonar training is kept concurrent with platforms. This new innovative technology can simulate any platform and allows operators to train on the same software as used on the submarine. Operators can then run mission based training and rehearsals in high fidelity scenarios using raw real-time data.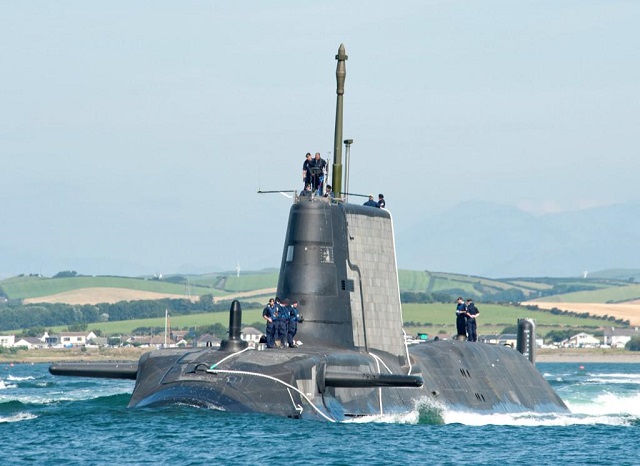 Astute class submarine HMS Artful
The introduction of the 'Rapidly Reconfigurable Training Technology' package is a significant step forward in customer training that can be used in the classroom or deployed directly to the customer's environment, allowing operators to train on the individual sensor fit of submarines at various upgrade stages.

Based around the training needs of the Thales Sonar 2076 system, which effectively provides the submarine with its operational 'ears', the new system recognises that traditional remote classroom-based
methods are not as effective as hands-on learning. 'Rapidly Reconfigurable Training Technology' delivers a professional portable learning environment, utilising the latest screen and software technologies which provides students with the best learning opportunities.

The package can be re-configured to reflect the various sonar upgrades to individual submarines, providing highly efficient and cost effective training to submariners. Sonar operators can now train on the exact sonar system they will be using once deployed. This removes, what is commonly referred to, as 'training lag' as they have to familiarise themselves with individual upgrades on different boats.

The Sonar 2076 Thales Training Service has now been integrated into the Royal Naval Submarine School at HMS Raleigh in a joint initiative by the Royal Navy, Defence Equipment and Support, and Thales.

The Royal Navy's tactical expertise is delivered by the RN Instructors and Thales' up-to-date system operational software provides a seamless transition from a training environment to the operational environment, keeping pace with new software variants as they are deployed.

The service has the potential to support other systems such as antisubmarine warfare and mine warfare sensors, as well as non-Sonar based sensors and civilian applications.