a
Naval Forces News - UK
Royal Navy Orders 60 Pacific 24 Mark-4 RIBs from BAE Systems
The Secretary of State for Defence, the Rt Hon Michael Fallon MP has announced a £13.5m contract to BAE Systems for 60 new Pacific 24 Rigid Inflatable Boats (RIBs) during a visit to Portsmouth Naval Base. This next generation Pacific 24 Mark-4 will be deployed on Royal Navy ships such as the Off Shore Patrol Vessels, as well as the new Queen Elizabeth Class aircraft carriers due to arrive in Portsmouth in 2017. The RIBs are the workhorse of the Royal Navy, deploying from ship or shore at speeds of up to 38 knots (44mph) as a rapid response craft to perform fast rescue, anti-piracy and counter-narcotics missions.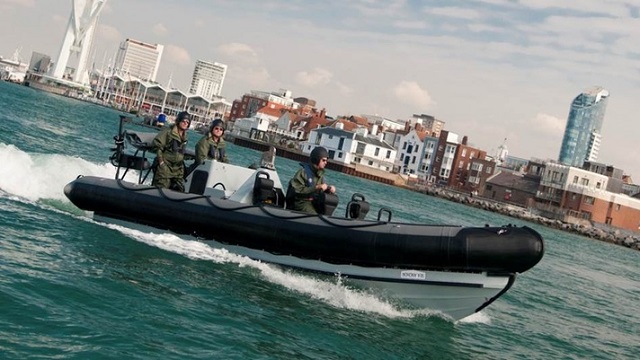 Pacific 24 Mark-4 RIB by BAE Systems
The high energy operations they perform means the strain on crews can be huge. To tackle this, the Pacific 24 Mark-4 RIB will include high performance shock absorbing seats which will minimise crew fatigue, allowing them to travel up to six-times the distance.

A team of 19 BAE Systems employees will start work in early 2016 to build the boats over the next four years at the Company's small boats manufacturing facility at Portsmouth Naval Base.

Defence Secretary Michael Fallon said: "These 60 new RIBs provide a vital capability to the Royal Navy and are a clear benefit of the £178 billion this government is investing in new military equipment.

"Built in Portsmouth dockyard this contract is not only good news for the Navy, but also for BAE Systems whose innovation has provided a modern design that will allow our armed forces to carry out operations ranging from armed boarding including anti-piracy and counter-narcotics missions to providing emergency rescue."

Les Gregory, Product & Training Services Director at BAE Systems, said: "Our focus for the next generation Pacific 24 was to extend the operational capabilities of a boat's crew through the use of shock-absorbing seats designed to reduce driver and crew fatigue.

The fourth generation Pacific 24 RIB is a significant step-up from its predecessors. It features a 370HP twin turbo diesel electronic engine with inbuilt self-diagnostic technology. The boats have also gained the Safety of Life at Sea accreditation meaning they can now be used for rescue operations.