a
Naval Forces News - India
Indian Navy MiG-29K Carrier-Based Multirole Fighter Order to be Fulfilled in 2016
Four Mikoyan MiG-29K (NATO reporting name: Fulcrum-D) fighters will be shipped to India in two weeks depending on weather, Sergei Korotkov, director general, MiG Corp. (a United Aircraft Corporation subsidiary), told Indian journalists during their tour of Russia.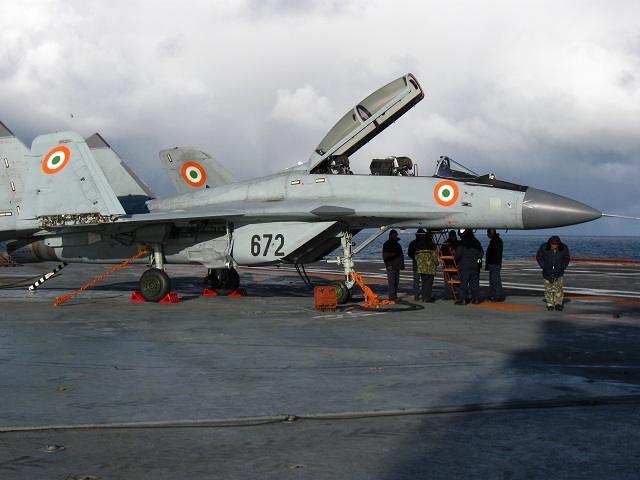 MiG-29KUB during sea trials onboard Admiral Kuznetsov
(picture: Alexey Polyakov/MiG)
According to Korotkov, the previous two aircraft were delivered in early December, tested by the Indian Navy and commissioned into service. The Russian-Indian contract for carrier-borne fighters of the type is to be fulfilled next year.

"Four more fighters will be shipped this month, and six more next year, and thus we will fulfil the order," India's Hindu daily quoted Korotkov as saying.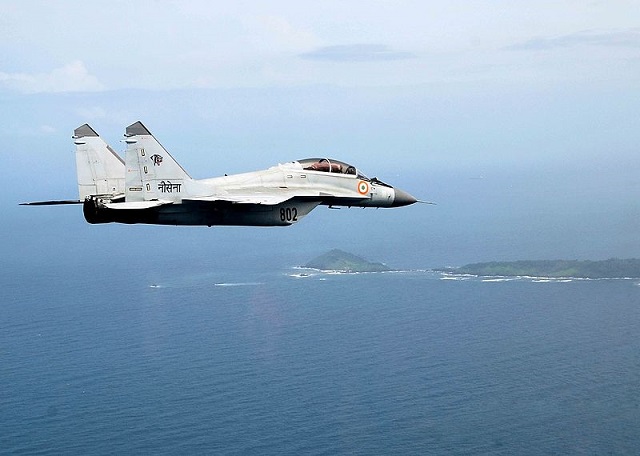 Mikoyan MiG-29K of the Indian Navy in flight over Indian islands. Picture: Indian Navy
India ordered a total of 45 MiG-29K/KUB deck-based fighters under two contracts awarded to Russia. The first order for 16 aircraft was placed as part of the Russian-Indian framework agreement on the Vikramaditya aircraft carrier in 2004. The supplementary order for 29 fighters more was landed by MiG Corp. in 2010. Thus, India became the launch customer for the MiG-29K ahead of the Russian Navy.

The first 16 planes delivered to the customer fly from the Vikramaditya now, while the remaining MiG-29Ks are slated for basing onboard India's indigenous aircraft carrier, the Vikrant, which service entry is planned for 2018.

As for the MiG-29s operated by the Indian Air Force, Russia has upgraded the first six of them, and the next phase of the upgrade began at a local Indian facility and has been on schedule so far.
At the same time, India is pursuing several other upgrade programs, the Mirage and Jaguar ones in particular. They are very important to the Indian Air Force, because the service entry of advanced fighting hardware has been delayed, while the in-service MiG-21s (Fishbed) and MiG-27s (Flogger) are subject for decommissioning in the near future.

© Copyright 2015 TASS. All rights reserved. This material may not be published, broadcast, rewritten or redistributed.