a
Naval Forces News - UK
Third Astute Class Nuclear-Powered Submarine HMS Artful Handed Over to the Royal Navy
The third of the new Astute Class attack submarines built by BAE Systems, Artful, has officially been handed over to the Royal Navy. Until now the submarine was owned by Defence Equipment and Support (DE&S), the MOD's body responsible for procuring and supporting equipment for the armed forces.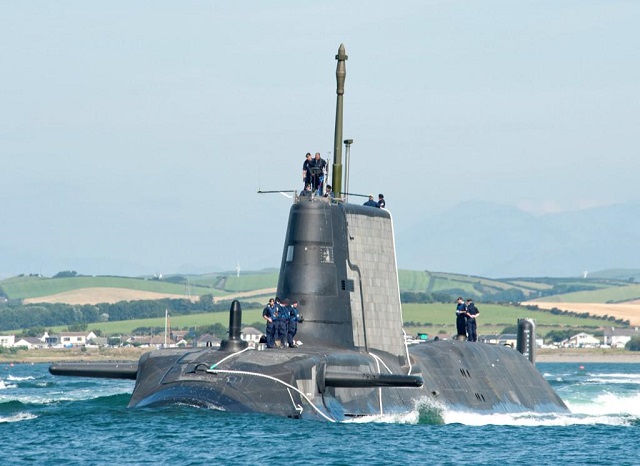 HMS Artful on her first sea trial. Picture: BAE Systems

The boat and her crew will now be added to the Royal Navy Fleet alongside the Navy's other units.

Defence Minister Philip Dunne said:
"The handover of Artful to the Royal Navy is another major step in the Astute Class submarine programme, which continues to gather pace. These attack submarines, will provide the Royal Navy with the most technologically advanced submarine Britain has ever sent to sea and will be a vital part of UK security for decades to come. They are being funded by our growing Defence budget and our £178 billion investment in equipment, which is delivering the very best possible kit to our Armed Forces."

The design and build of the Astute class is a highly complex engineering feat. The 7,400-tonne attack submarines measure 97 metres and are powered by nuclear reactors. Each submarine is armed with Spearfish torpedoes and Tomahawk land attack missiles.

Artful is the third (of seven) Astute class submarine to have been built by BAE Systems. Artful follows her sister submarines to Her Majesty's Naval Base Clyde in Scotland.