a
Naval Industry News - USA
HII to Continue Refuelling and Overhaul Planning for USS George Washington (CVN 73)
Huntington Ingalls Industries announced today that its Newport News Shipbuilding division has received a contract option from the U.S. Navy to assist with planning for the refueling and complex overhaul (RCOH) of the aircraft carrier USS George Washington (CVN 73).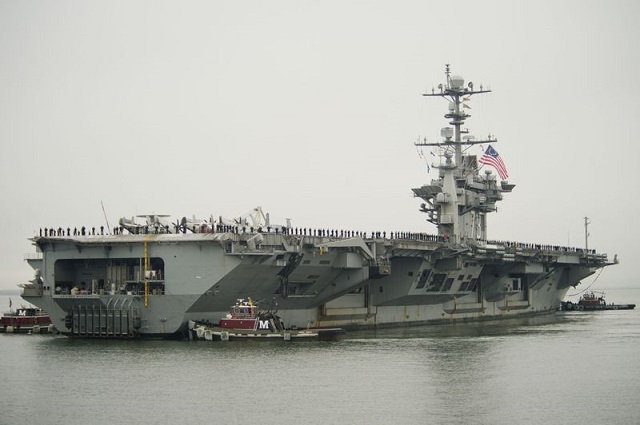 The aircraft carrier USS George Washington (CVN 73) arrived at Naval Station Norfolk in December 2015 and is scheduled to begin its refueling and complex overhaul (RCOH) in 2017. U.S. Navy photo
The $185.2 million contract option funds the continuation of planning, long-lead-time material procurement, shop fabrication, shipboard inspections and facilities readiness for the upcoming RCOH in 2017. The planning work will be performed at Newport News.

"The company looks forward to our continued partnership with the Navy as we complete the planning efforts in support of the start of the RCOH next summer," said Chris Miner, Newport News' vice president of in-service aircraft carrier programs. "This contract award allows the continued planning for all the work associated with a full RCOH, which underscores the Navy's continued commitment to ensuring this great national asset remains in the fleet and operational for another 25 years."

An RCOH is a full recapitalization of the ship that represents greater than 35 percent of all maintenance and modernization in an aircraft carrier's 50-year service life. Work includes the refueling of the ship's reactors, as well as extensive modernization work to more than 2,300 compartments, 600 tanks and hundreds of distributive systems. In addition, major upgrades are made to the ship's food service areas, aircraft launch and recovery systems, combat systems and the ship's island. The support of about 3,700 shipbuilders from all areas of the company, including engineering, planning, supply chain, the shops and trades is required to successfully accomplish an RCOH.