a
Naval Forces News - Singapore
First Littoral Mission Vessel LMV Independence Joins the Republic of Singapore Navy Fleet
The Republic of Singapore Navy (RSN) welcomed a new addition to its fleet as Littoral Mission Vessel (LMV) Independence finished its sea trials and cruised to its new home at Tuas Naval Base on 26 May. LMV Independence is one of the eight LMVs that will replace the current Fearless-class Patrol Vessels (PVs). The new ships will be more efficient than their predecessors in areas such as speed and versatility.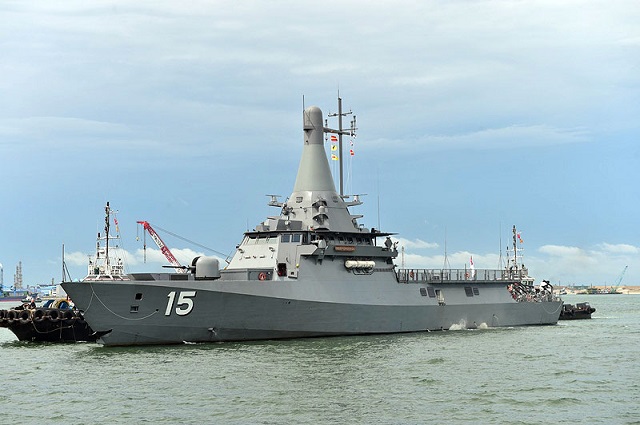 A unique design feature of the LMVs is the co-location of the ship's vital controls in an Integrated Command Centre. This area in the ship houses the LMV's Bridge, Combat Information Centre, and Machinery Control Room - which are usually housed in separate parts of a warship.
Picture of LMV Independence by RSN/ Chua Soon Lye

Speaking at the event, Chief of Navy Rear-Admiral (RADM) Lai Chung Han said: "It is an important milestone for the (LMV) programme. The homecoming of LMV Independence marks the conclusion of almost 2 years of the construction phase. It also marks the beginning of about 11 to 12 months of ICIT (Installation, Checkout, Integration and Testing). I think this is something we can be very proud of and something that we want to thank all involved for bringing the project to this point."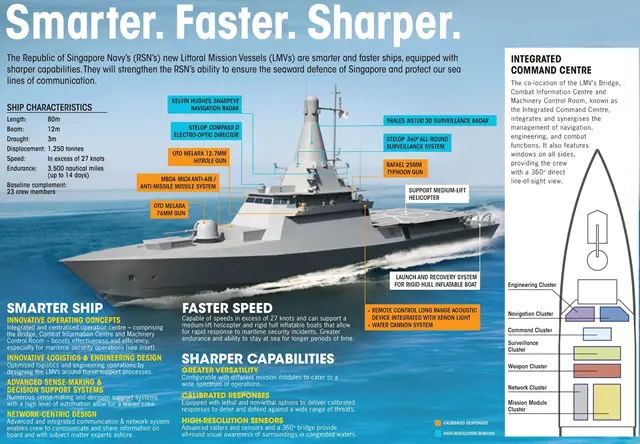 Illustration: RSN

The names of the RSN's eight LMVs are RSS Independence, RSS Sovereignty, RSS Unity, RSS Justice, RSS Indomitable, RSS Fortitude, RSS Dauntless, and RSS Fearless.

The eight Littoral Mission Vessels (LMVs) will replace the Navy's Fearless Class Patrol Vessels. The LMVs will be able to carry out maritime security operations and safeguarding of our sea lines of communication more effectively and efficiently. Although larger in size, the LMVs with the innovative design, will be able to operate with a leaner crew size. Adopting the concept of "mission modularity", these vessels are highly configurable and can embark on a range of mission modules to meet the specific mission needs. The first LMV will be delivered to the Navy in first quarter of 2016.

The LMV sensor suite will include:
Thales NS100 3D Surveillance Radar
Kelvin Hughes Sharpeye Navivation Radar
Stelop Compass D EO Director and 360 degrees all round Surveillance System

The LMV weapon systems will include:
An Oto Melara 76mm main gun
MBDA VL Mica surface to air missiles
Oto Melara 12.7mm Hitrole remote weapon stations
Rafale 25mm Typhoon remote weapon station