a
Naval Forces News - Russia
Zvezdochka Shipyard to Deliver Two SSBN (Projet 667BDRM Delfin – Delta-IV) and One SSK (Kilo) to Russian Navy
Zvezdochka Shipyard plans to deliver to the Russian Navy two nuclear-powered submarines and one diesel-electric submarine undergoing overhaul and upgrade at the shipyards by the end of 2012.

Zvezdochka Shipyard will hand over this year two Delta class submarines IV-class SSBN Verkhoturye (K-51), SSBN Novomoskovsk (K-407) and diesel-electric KILO-class SS Kaluga (B-800). Besides, the shipbuilder plans to deliver to India the submarine "Sindurakshak" by the end of this year, undergoing maintainance and upgrade at the shipyards.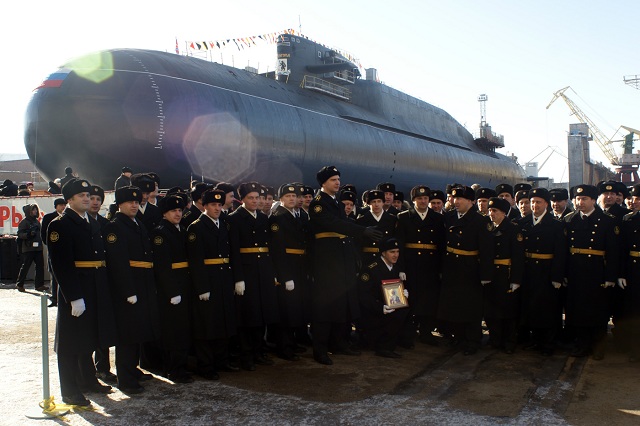 Refited Verkhoturye SSBN (Project 667BDRM Delfin) during the ceremony at Zvezdochka shipyard
(Picture: http://kuleshovoleg.livejournal.com/34689.html)

Severodvinsk-based Shipbuilding Center 'Zvezdochka' is a diversified shipbuilding enterprise. It has two covered slipways with 7 shipbuilding sites which are designed for overhaul and construction of vessels with a launching weight of up to 18,000 tons. The firm is majority owned by Northern Shipbuilding and Ship Repair Center, part of JSC United Shipbuilding Corporation.

Project 667BDRM Delfin nuclear-powered subs are basic assets of Russia's maritime nuclear deterrence force. Their construction was started in 1981 at Sevmash shipyard. In total, the Russian Navy received seven submarines of the class between 1984 till 1990. Presently, Russian Navy operates six of them. Zvezdochka shipyard has repaired and modernized all of them from 1999 to 2012. Verkhoturye SSBN – lead sub of the class– was laid down at Sevmash shipyard in February 1981.