a
BRAVE class replenishment and support ship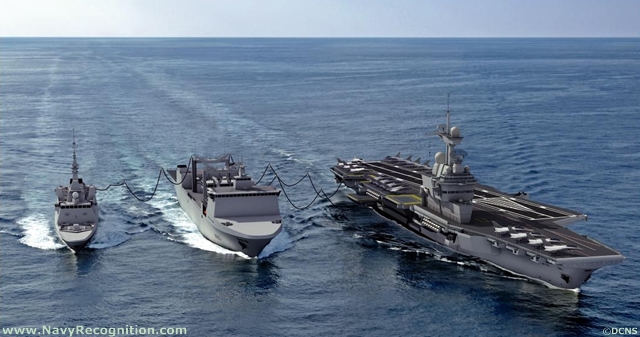 DCNS presented during Euronaval 2010 its new-generation underway replenishment tanker and support vessel named BRAVE (Bâtiment RAVitailleur d'Escadre). The design currently in development should answer French Navy needs to replace the Durance class. BRAVE will also be available to international customers.

To better fulfil the various functions required by the logistic support of a Fleet, BRAVE is organised in three main areas: the front living area dedicated to Life and Board, accommodations, CIC and bridge, the central area with liquid tanks and all Replenishment at Sea rigs, the aft area hosting other support functions (workshops, storage, vehicles et.) and that is suitable for additional modules.
Central area can be jumboized (by adding one or two hull sections) to increase for example fuel storage capacities. Considerable attention has been paid to the Underway Replenishment (UNREP) function during the BRAVE design phase. The flows of all materials have been studied to provide the BRAVE family with an efficient and safe transfer system to reduce risks and UNREP tasks duration.

Secondary Missions (other than Logistic Support):
-Heavy loads transfers
-Vehicle transport
-Container storage
-Modular hospital
-Helicopter and UAV capability
-Command and control capacity
-Training for Navy Officers

The BRAVE family has been designed to provide a fleet with all functions required for logistics: transfer of solids (including ammunitions), liquids (including various fuel oil) and naval staffs; VERTREP (VERTical REPlenishment); onboard various workshops; spares etc. In addition, BRAVE can hosts when required by the mission, special containers such as a command shelter or an additional modular hospital.
Variants:
Technical Data

Back to top
Design
Modular design. Can be fitted with 2 double masts allowing simultaneous operation on 4 stations. Can host mission specific containers. Double-hull tanks.
Payload
Liquid UNREP tanks, up to 9 RAS liquid tanks (16,000 cubic meters), 2 fresh water tanks
Ballast capacity
UNREP (solids) about 2,500 t
Torpedoes, missiles...
Technical support area: 1,400m²
Ammunition storage: 1,400m² / 280 t
UNREP capacity
Liquid UNREP, up to 4 masts for liquid/solid at port and starboard
Solid UNREP at port and starboard
VERTREP: 2 helicopter spots (1 mid-size + 1 heavy)
Propulsion
All configuration available
Specifications

Back to top
Type

Multi-Mission Replenishment and Support ship

Crew

100 (+ accomodations for 100)


Operators

None (Project in development)
France in the future. Available for export.

Performance

Top Speed: 20 kts
Range: 10,000 nm @ 18 kts
Endurance: N/A

Displacement

30,000 tons

Engines

N/A

Aircraft

Spots: 2, one for heavy helicopter.
Hangar: 2 mid-size helicopters (10 tons class)

Dimensions

Length: 195 m
Breadth: 28 m
Maximum Draft: 8.7 m

Back to top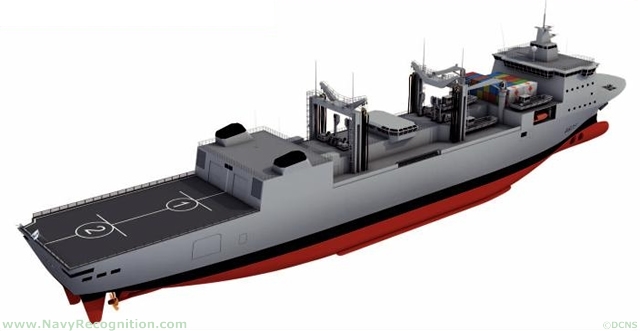 Back to top
BRAVE class replenishment and support ship