a
Euronaval 2012 - Show Daily News
French Procurement Agency experimenting naval drones as the future of anti-mine warfare
The French Defense Procurement Agency (DGA - Direction générale de l'armement) explores the possibilities offered by the use of surface and undersea unmanned vehicles to counter the threat of the naval mines. The innovative concept of "a drone carrying drones" studied in the research study "Espadon (Swordfish)" offers particularly promising solutions. Experiments have been conducted at sea since 2011, in favor of the DGA and the French Navy, off Brest.

Espadon is preparing the SLAMF program to replace the existing anti-mine warfare assets of the French Navy by 2020. Indeed mines are present in all maritime conflicts - most recently in Libya - to obstruct military or commercial traffic. Mines present a very wide range, from the most rudimentary to the most sophisticated, and they can be laid by unspecialized means to a depth of about 300 meters.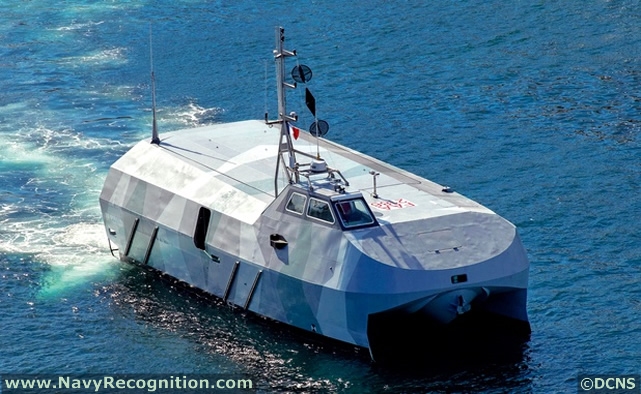 Sterenn Du unmanned surface vehicle, the "mother ship" for AUVs
Espadon aims to evaluate a system capable of processing vast maritime and coastal areas, in a discreet way and without exposing personnel to the danger. The system is composed of an unmanned surface vehicle (USV), the "Sterenn Du" ("Black Star" in Breton), equipped with launch and recovery systems, and of two types of autonomous underwater vehicles (AUV) aboard Sterenn Du, for the detection and identification of the mines.

The DGA awarded Espadon in July 2009 to DCNS, Thales Underwater Systems and ECA. The Sterenn Du was launched in December 2010. The ability to launch and recover AUVs was tested in 2011. Full automation and remote control from the shore were also demonstrated. In the second half of 2012, the first type of AUV, dedicated to the identification of the threats, is being tested. Eventually, in 2013-2014, the second type of AUV, dedicated to the autonomous detection and classification of mines, will be tested off the coast of Brittany.