a
Naval Forces News - Australia
Space, power and weight savings as Thales updates Australian Collins submarine sonar systems
Thales Australia has signed a major contract with the Defence Materiel Organisation to deliver a significant update to the Royal Australian Navy's submarine sonar systems.

The company will address obsolescence issues on the Collins class Scylla sonar, boosting the reliability of a system that was initially designed over a quarter of a century ago. Specifically, the project will replace existing equipment in the Scylla Signal Processing Cabinets with modern Commercial Off The Shelf (COTS) components, and also re-host the software.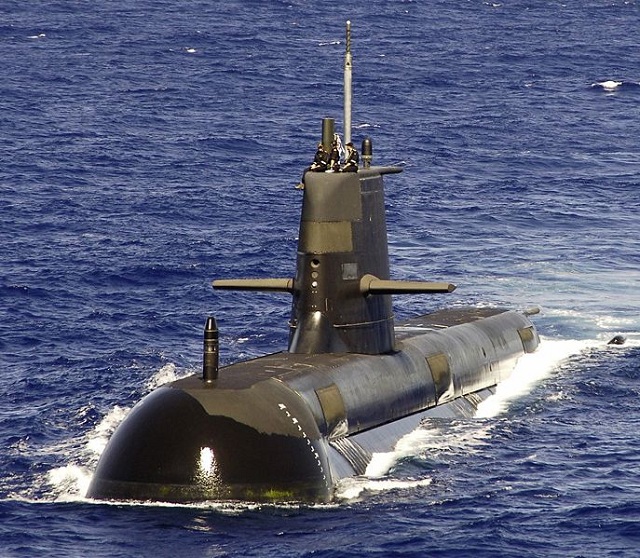 Collins class submarine
(Picture: US Navy)
Implementing the new technology will result in a system requiring less than 20% of the number of processing racks currently used, as well as significantly fewer processing boards than its predecessor. Industry-standard COTS boards will replace bespoke originals, making the system easier to maintain and providing enhanced reliability.

The resulting COTS-based system will benefit from a reduced through life cost and will deliver substantial power savings, together with a weight saving of more than a tonne. The growth potential within the new system will also provide the opportunity for the RAN to significantly enhance its sonar detection capability in the future.

Thales Australia CEO Chris Jenkins said: "The Collins Class submarines have a very capable sonar suite, but time has moved on and we are now leveraging advances in technology to deliver an important update that will treat obsolescence and result in substantial space, power and weight savings.

"We have invested over many years and built a significant level of submarine sonar expertise in Australia, starting on the Collins in the 1980s, and then leveraging this on other naval platforms. This is deep technical expertise of international standing. Having this capability in country enables us to provide these kinds of updates economically, quickly and at low risk."

The vast majority of the update work will be performed at Thales Australia's underwater systems facility in Rydalmere, western Sydney. The update will be physically installed in the first of six submarines in 2014 following trials at sea in 2013.