a
Defense Industry News - South Korea
Republic of Korea Selects The AgustaWestland AW159 for Republic of Korea Navy
AgustaWestland, a Finmeccanica company, is pleased to announce that the Republic of Korea has selected the AW159 helicopter to meet its Maritime Operational Helicopter requirement. The contract for eight AW159 helicopters for the Republic of Korea Navy is the first export order for this new generation aircraft, known as the AW159 Wildcat in UK service. This contract, which includes aircrew and maintainer training, initial spares and support services, will help sustain several hundred jobs at AgustaWestland's Yeovil factory in the UK as well as many jobs within the extensive UK supply chain. The Company is already delivering AW159 Wildcats into service in the UK to fulfil the UK Ministry of Defence's order for 62 AW159 helicopters for the Royal Navy and British Army. Deliveries of the AW159s for the Republic of Korea will start in 2015 and be completed in 2016.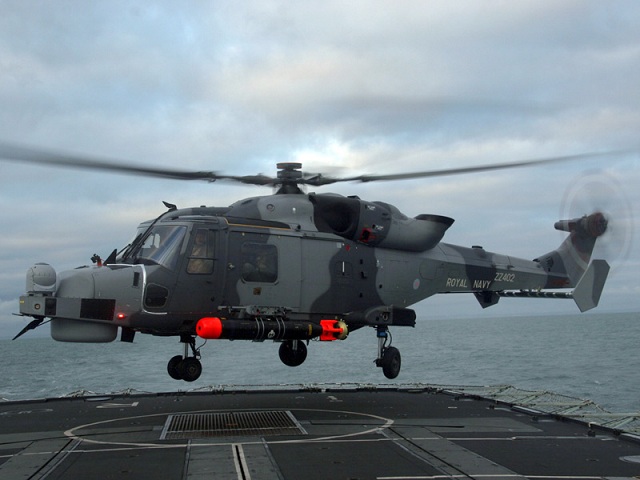 A Royal Navy Wildcat helicopter takes off from the flight deck of HMS Iron Duke
(picture: Crown Copyright/MOD 2012)
Prime Minister David Cameron said: "Today's announcement demonstrates Britain's ability to successfully compete in the global race. I'm delighted the Korean Government has chosen to continue its relationship with AgustaWestland in selecting this state of the art maritime helicopter which will help safeguard high quality jobs and skills in Yeovil and across the country. The Royal Navy already enjoys a very close relationship with Korea, and I have no doubt that this decision will only strengthen further our essential bilateral relationship." Bruno Spagnolini, CEO, AgustaWestland said: "This was a demanding competition, with an extensive evaluation of all the competitors, and demonstrates that the AW159 offers a winning combination of capability and value for money, even when competing against larger helicopters. We've had a long and successful partnership with the Republic of Korea Navy, which operates a large fleet of our Super Lynx helicopters, so we welcome their continued confidence in our aircraft and intend to build on today's success in other export markets in future." The Republic of Korea Navy aircraft will be equipped with a wide range of mission equipment including an active dipping sonar, 360 degree scan radar, nose mounted electro-optical device and a rescue hoist. It will also be equipped to carry anti-ship missiles, torpedoes and a door mounted gun. This will allow it to perform a wide range of roles, from both shore and ship bases, including anti-surface warfare, anti-submarine warfare, search and rescue, maritime security and maritime surveillance. UK Trade and Investment Minister Lord Green said: "I am delighted that the Republic of Korea is continuing its long-standing relationship with AgustaWestland by selecting this state of the art maritime helicopter. The Korean Government and its Defence Acquisition and Programme Administration conducted a thorough and transparent competition and the UK Government will do all it can to ensure a smooth introduction of AW159 into service with the Republic of Korea Navy."

The AW159 is a new generation multi-role military helicopter that is now replacing Lynx helicopters in service with the Royal Navy and British Army. Designed with the same attributes that have made the Lynx the world's best maritime helicopter in its class, the AW159 is set to claim this title. The AW159 has a semi-rigid rotor head which gives it high agility and the same legendary ship operating capabilities of the Lynx helicopter. It is also fitted with composite rotor blades utilising the same technology that enabled the Lynx to break the world helicopter speed record. The AW159 is powered by a pair of LHTEC CTS800-4N engines, each providing up to 1,361 shp, which gives the aircraft exceptional performance, even in hot and high environments. The engine installation also incorporates exhausts with built in IR suppression to provide increased survivability. The AW159 has the most modern integrated cockpit of any naval helicopter, featuring four large area (10" x 8") cockpit displays and a fully integrated avionics suite and mission system to provide increased mission capability and increased crew effectiveness.