a
Naval Defense Industry News - Germany
Cassidian's new TRS-4D naval radar passes factory acceptance test for German F125 class Frigates
The German Navy's F125 class frigates will be equipped with Cassidian's newly developed TRS-4D naval radar, which will provide them with reconnaissance and surveillance capabilities that are unique worldwide. Cassidian, the defence and security division of EADS, has now successfully passed the first factory acceptance test for the radar system carried out by the customers, the German procurement authority BAAINBw and Blohm + Voss Naval. The first unit, which will equip a land-based system in Wilhelmshaven, is planned to be delivered next month. The first TRS-4D for the "Baden-Württemberg" lead ship is scheduled for delivery in August.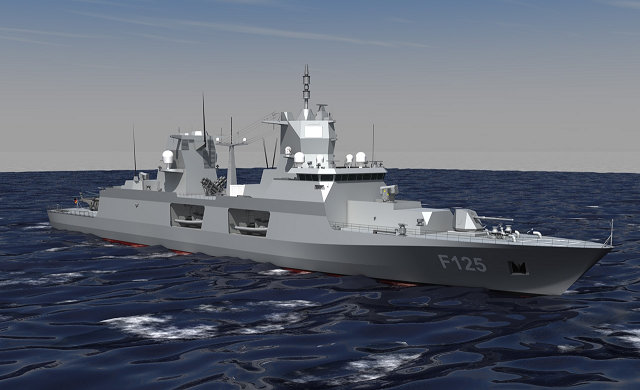 "Cassidian's new TRS-4D naval radar provides the German Navy's F125 frigates with unprecedented detection capabilities." Image: Arge F125
"This new radar guarantees high operational availability on long-term missions and also improves the survivability of navy ships," explains Elmar Compans, head of the Sensors & Electronic Warfare unit at Cassidian.

TRS-4D enables ships ranging from patrol vessels to frigates to carry out the various detection tasks required of ship-borne, medium-range radar systems both in the open sea as well as in complex coastal zones with a high target density. Compared to conventional radars, this more accurate, faster system now tackles a wider-than-ever scope of targets, e.g. for protection against asymmetric attacks.
Cassidian Video
The new radar is based on a unique system concept. In contrast to any other systems available on the market, the TRS-4D is the first surveillance radar to make full use of the advantages of AESA technology (AESA = Active Electronically Scanned Array), which is based on multiple independent emitters. This results in a detection performance that is unprecedented worldwide. The core element of AESA technology as it is used here is a multitude of Cassidian-made transmit and receive modules based on the very latest gallium nitride (GaN) technology. GaN has unique electronic features such as high power efficiency, and also allows for very efficient industrial production processes. Cassidian is the European leader in this technology.

The TRS-4D system concept provides navies and coast guards with all of the benefits of AESA technology, which up to now had only been available in very expensive systems. Cassidian is now also making this technology competitive for medium-sized surveillance and target acquisition radars. For the F125 frigates the system will be deployed in a version with four fixed arrays. However, a version with a single, mechanically rotating antenna is also available.

The four F125 frigates of the "Baden-Württemberg" class should replace the F122 "Bremen" class ships from 2016.