Russia Black Sea Fleet A-222E Bereg-E Coastal Defense Systems Conducted Live Fire Exercise
.a
a
Naval Forces News - Russia
Russia Black Sea Fleet A-222E Bereg-E Coastal Defense Systems Conducted Live Fire Exercise
The separate missile and artillery brigade of the Black Sea Fleet's Novorossiisk Naval Base is conducting a scheduled qualification exercise at the Zhelezny Rog Training Range in the Krasnodar Territory, according to the Southern Military District's press office.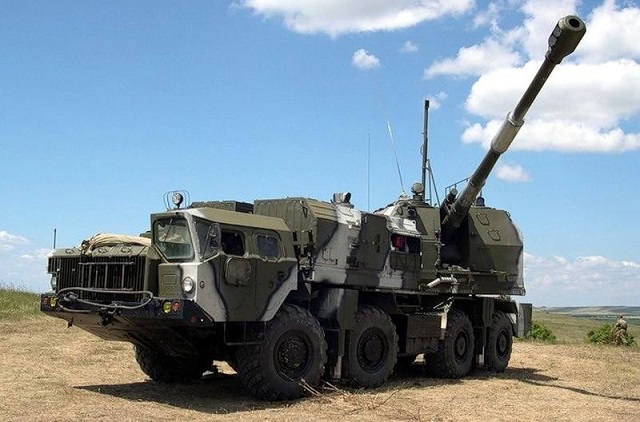 A-222E Bereg-E mobile coastal artillery system
"The artillery and missile crews are improving cohesion, refining their driving skills and taking qualifying exams on taking up positions and readying their systems for battle. Bereg self-propelled coastal defense artillery crews have conducted a live-fire exercise engaging a sea target from fortified firing positions. They engaged a plywood board floating 7 km out," the news release says.

The base's combatant and support ships have provided firex safety and sealed the area off for the duration. The crews of the Bastion (NATO reporting name: SS-C-5 Stooge) coastal defense missile systems deployed to the training area have conducted dry runs simulating missile launches against targets out at sea.

A-222E Bereg-E mobile coastal artillery system
The Bereg self-propelled coastal defense artillery system is designed to fight small and medium ships travelling at a speed of 100 knots. It has a target acquisition range of 35 km and an effective range of 22 km. The 130-mm self-propelled gun has a speed of 60 km/h, a rate of fire standing at 72 rd./min. and an endurance of 850 km. Each element of the Bereg system weighs from 43 tons to 44 tons.



© Copyright 2017 TASS. All rights reserved. This material may not be published, broadcast, rewritten or redistributed.