a
Euronaval 2012 - Show Daily News
Thales ASEMAR Autonomous underwater unmanned vehicle for maritime surveillance and security

Underwater mines are readily obtainable by large numbers of armed groups and remain a formidable threat in asymmetric warfare. They can block access to harbours and cause serious economic harm to an entire country. To respond to these new threats, the French Company Thales has developed with several partners, the ASEMAR an autonomous underwater unmanned vehicle for maritime surveillance and security.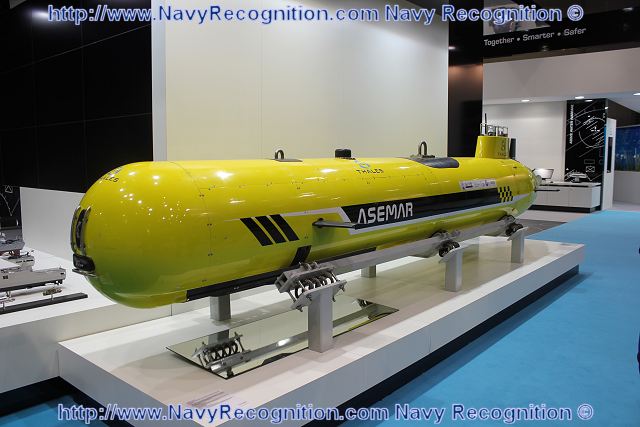 ASEMAR Thales Autonomous underwater unmanned vehicle for maritime surveillance and security at Euronaval 2012.
Mines remain active for many years after a conflict has ended and pose a continuing danger to commercial shipping and military vessels. Today, new unmanned naval systems as the
ASEMAR
of Thales can approach them without endangering human life.
Thales is leading a number of large-scale mine countermeasure programmes, assuming full responsibility for the chosen solution, from prime contracting and system engineering through to shipboard installation and sea trials, as well as equipment supply and combat system integration.
In the years to come, maritime unmanned vehicles will play an ever-growing role in naval operations. Such systems provide strategic and operational advantages to Navies and security forces by significantly reducing the cost and human risk of mine countermeasures, as well as by extending the reach of surveillance.
The
Asemar
project involves industry partners Thales, ECA and IXSEA and the research laboratories of Ensieta, Ecole Navale, ISEN and UBO.
Thales is responsible for overall project coordination and system deployment. The company will also supply a next-generation high-resolution side-scan sonar with synthetic-aperture array.
The system is designed for surveillance of maritime areas, investigation and searches for submerged objects with certain characteristics.
Its performance specifications include high levels of energy and decision-making autonomy, generation of high-resolution underwater imagery from depth and compatibility with standard off-the-shelf equipment.
The system will also have the capability to track changes in the undersea environment between subsequent missions and compare the objects it detects with those stored in its database.