---
The Russian Navy began tests of underwater robotic craft (UUV) to simplify the use of towed hydro-acoustic antennas which are over one kilometer long and increase the chance of detecting hostile submarines and torpedoes but decrease the speed and maneuverability of the carrier warship, the Izvestia daily writes.
---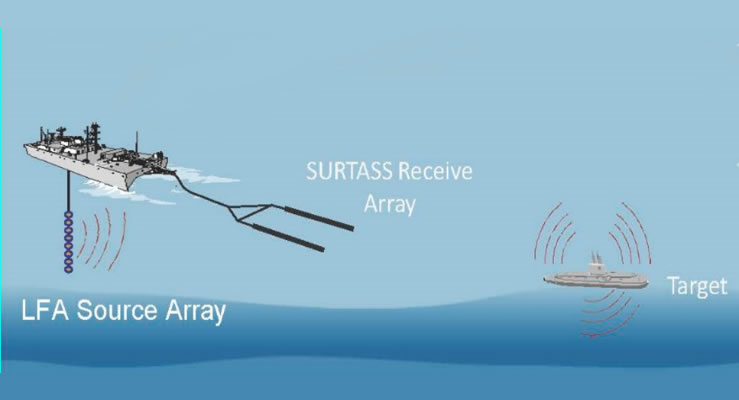 For illustration purpose only: The U.S. Navy Surveillance Towed Array Sensor System (SURTASS) is a low-frequency array of hydrophones that is deployed from surface ships and receives acoustic data. U.S. Navy image / SURTASS LFA sonar program.
---
Experts said the robotic tugs will be in high demand as they will make antisubmarine warfare ships less restricted in mobility. The Russian Navy command said trials of the latest underwater robotic tugboats are ongoing in Baltiisk. They will tow long flexible antennas used for submarine search. The craft lifts various restrictions on warship maneuverability and allows deploying the antenna to better see the target.
The tug resembles a small submarine with a keel and several depth controls. It is fixed to the end of the antenna and regulates submergence depth and steers up when the warship maneuvers.
The antenna is a two-kilometer long rope with hydrophones which is towed behind a warship. It is an efficient means to detect submarines. But the antenna curves during maneuvering and thus loses or distorts the signal. Long antenna tails restrict warship maneuverability and speed and impede attack.
Expert Alexander Mozgovoy said designers had long been working to make towed antennas more convenient. "High sensitivity is an advantage of a towed antenna specifically in a passive regime. Noise and vibration of the carrier's power plant affect it much less," he said. "Previously they used to build special ships with towed antennas to search for submarines and aim aviation and antisubmarine forces at them. Because of the big size the towed antennas can be used only in open sea and oceans with sufficient depths and space for maneuver. Therefore, antisubmarine ships often operate in pairs or groups. One is monitoring the underwater situation and the others attack the targets," he said. If robotic antenna tugs are created, antisubmarine ships will maneuver freely and their engagement effectiveness will increase, he added.
Modern Russian surface ships are equipped with towed hydro-acoustic antennas Vinietka-M and Minotavr-M. They are carried by the latest project 22350 frigates and project 20380 corvettes. Vinietka-M uses towed long antenna and low-frequency emitter to detect low-noise submarines. Along with sound ranging the antenna also operates in noise-direction finding regime to detect torpedoes and surface warships at major distances. Noise-direction finding regime can see a maneuvering submarine at a distance of 15-20 km, a surface warship - at 30-100 km, a torpedo - at 15-30 km, the Izvestia said.
---
© Copyright 2018 TASS. All rights reserved. This material may not be published, broadcast, rewritten or redistributed.
---