a
Naval Forces News - USA
GDEB to Christen the 5th Virginia-class Block III Submarine, the future USS Colorado, on Saturday
General Dynamics Electric Boat (GDEB) will christen Colorado (SSN-788), the U.S. Navy's newest and most advanced nuclear attack submarine, at a ceremony at its shipyard on Saturday, Dec. 3, at 11 a.m. Electric Boat is a wholly owned subsidiary of General Dynamics.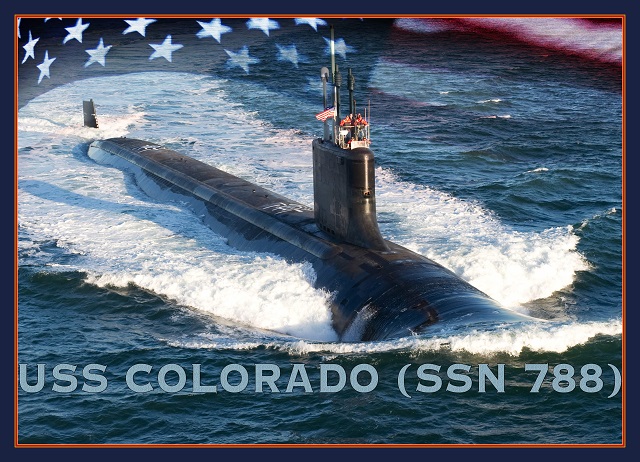 An artist rendering of the Virginia-class submarine Colorado (SSN-788)
Annie Mabus, daughter of Secretary of the Navy Ray Mabus, is the ship's sponsor. Secretary Mabus will be the event's principal speaker.

The submarine Colorado is the 15th ship of the Virginia Class and the 5th "Block III" variant. Block III subs feature a revised bow with a Large Aperture Bow (LAB) sonar array, as well as technology from Ohio-class SSGNs (2 VLS tubes each containing 6 missiles). Unobtrusive, non-provocative and connected with land, air, sea and space-based assets, Colorado and the other Virginia-class submarines are equipped to wage multi-dimensional warfare around the globe, providing the U.S. Navy with continued dominance in coastal waters or the open ocean.

Electric Boat and its partner, Newport News Shipbuilding, share construction of the submarines under a teaming agreement. A total of 28 Virginia-class submarines have been delivered, are under construction or under contract.