a
Naval Forces News - Russia
First Project 12700 Alexandrit-class MCM Vessel Joins Russian Navy
The lead mine countermeasure (MCM) vessel Alexander Obukhov of project 12700 has been handed over to the Russian Navy. TASS correspondent reported that St. Andrew's flag was hoisted on the warship.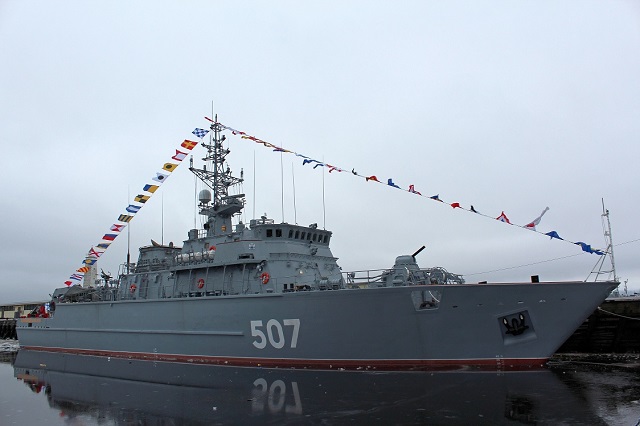 Flag raising ceromny for the first Project 12700 Alexandrit-class MCM vessel. Picture: Curious / forums.airbase.ru
"The raising of St. Andrew;s colors on the Alexander Obukhov opens a new page in the history of our mine sweeping force. It is no doubt a major achievement of designers and shipbuilders," Russian Navy Commander-in-Chief Vladimir Korolev said at the ceremony.

The ships of project 12700 Alexandrite are a new generation of mine sweepers. The fiberglass hull considerably decreases the weight and extends the life cycle. The warships can fight mines with various flails, tele-guided and autonomous unmanned underwater craft.

The lead Alexander Obukhov sweeper of the project had its keel laid on September 22, 2011 and was floated in the summer of 2014. The same year the Sredne-Nevsky Shipyard signed a contract with the defense ministry for the serial construction of three sweepers of the project. They are to be handed over to the Navy in 2016-2018. The second Georgy Kurbatov sweeper of the series had its keel laid in the spring of 2015. The laying of the keel of the third warship is scheduled in the spring of 2017.



© Copyright 2016 TASS. All rights reserved. This material may not be published, broadcast, rewritten or redistributed.