a
Naval Forces News - USA, France
Pictures: US Navy F/A-18C Hornet Fighters Crossing Decks with French Navy Aircraft Carrier CDG
The French Navy (Marine Nationale) released pictures showing at least two F/A-18C Hornet fighters (and a E-2C Hawkeye) from the US Navy aircraft carrier USS Dwight D. Eisenhower (CVN 69) crossing deck with Charles de Gaulle. The pictures were taken on December 8th while both carriers were operating in the eastern Mediterranean Sea. The aircraft belong to Strike Fighter Squadron 131 (VFA-131), also known as the "Wildcats".

On the same day, several Rafale M (and a E-2C) from Charles de Gaulle crossed decks with "IKE" as you can see at this link.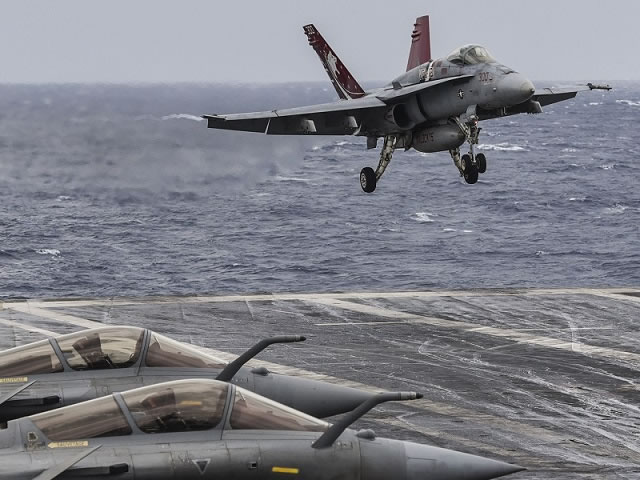 MEDDITERRANEAN SEA (Dec. 8, 2016) An F/A-18C Hornet fighter from aircraft carrier USS Dwight D. Eisenhower (CVN 69) (Ike) about to perform a Touch and Go aboard French Navy aircraft carrier Charles de Gaulle. French Navy picture.
The Charles de Gaulle Carrier Strike Group has been leading the coalition in naval strike operations aimed to ultimately destroy the ISIL terrorist organization from the Eastern Mediterranean Sea. Charles de Gaulle's presence in the region has provided continuous carrier-based naval aviation to combat ISIL during its deployment, which has been extended twice.

The Charles de Gaulle Strike Group also integrated American guided-missile destroyers USS Ross (DDG 71) and USS Mason (DDG 87) into its air defense operations.

The United States and France have built the oldest alliance between any American and European nations, and these 200 years of trust have allowed the Ike CSG to take over the Charles de Gaulle's area of operation as the French carrier prepares for a scheduled maintenance period. Pre-coordination between the two strike groups will allow dual-carrier operations to be carried out in the Mediterranean Sea during the transition. Prior to this, the Ike CSG was operating in the U.S. 5th Fleet area of operations.
MEDITERRANEAN SEA (Dec. 6, 2016) Aircraft carrier USS Dwight D. Eisenhower (CVN 69) transits the Mediterranean Sea alongside aircraft carrier FS Charles de Gaulle (R91). French Navy Video.
During its last deployment one year ago, the Charles de Gaulle carrier strike group conducted 271 combat sorties, including 259 precision strikes against ISIS. During a recent visit to France, the Chief of Naval Operations (CNO) Admiral John Richardson awarded the Charles de Gaulle aircraft carrier the prestigious Meritorious Unit Commendation for its contribution to the recent operations against ISIS.

From December 7, 2015 to March 3, 2016, the Charles de Gaulle served as the command element for U.S. Naval Forces Central Command's Task Force 50 (TF 50). It was the first time this function was entrusted to a non-US admiral and non-US unit.

Charles de Gaulle's current mission is the last one before a major mid-life refit set to start in February 2017. For 18 months the aircraft carrier won't be available. It also marks the first deployment with a full Rafale M fighter air-wing, since the venerable Super Etendard Modernisé has just been retired (you can see our coverage of the event at this link).

In an exclusive interview of both Admiral Richardson (US Navy CNO) and Admiral Prazuck (Chief of French Navy), Navy Recognition learned that Rafale M may conduct combat missions from US Navy aircraft carrier during the refit of Charles de Gaulle:

Do you believe we could see French Navy jets flying combat missions from a US Navy aircraft carrier in the near future?

CNO: We have already conducted air wing training together on numerous occasions and continue to share information and carryout regular aviation personnel exchanges. If operations necessitated it, our two air wings could operate simultaneously from the decks of each other's aircraft carriers.

CEMM: Absolutely. French pilots are partly trained in the US; both navies practice catapult assisted take-offs and arrested landings. We have already demonstrated that F-18 could be operated from the CDG. It is technically and tactically absolutely realistic both ways.

You may read the entire interview at this link.