a
Naval Aviation News - Italy
Leonardo delivers the first two P-72A Maritime Surveillance Aircraft to Italy
Leonardo-Finmeccanica delivered the first two P-72A aircraft to the Italian Air Force. It is the maritime surveillance variant of the ATR 72MP maritime patrol aircraft (used by the Turkish and Italian navies) itself based on the ATR 72-600 twin-engine turboprop short-haul regional airliner. The P-72A will replace the old Breguet Atlantic in service.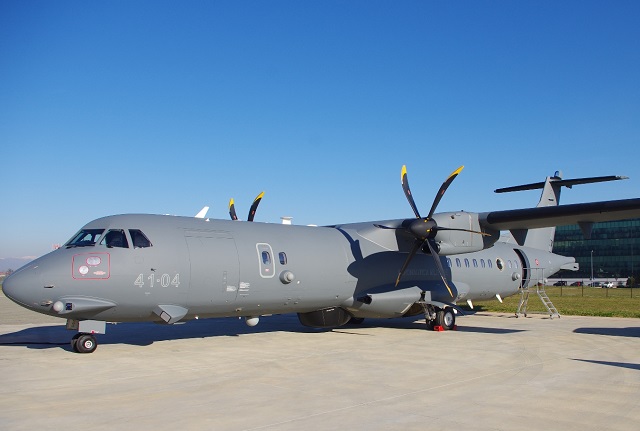 One of the new P-72A Maritime Surveillance Aircraft delivered by Leonardo to the Italian Air Force. Picture: Leonardo
Mauro Moretti, CEO and Managing Director of Leonardo-Finmeccanica said: "Safety and environmental protection are elements of crucial importance for the economy of our country. From our shores we conduct most of our international trade. But trafficking and migration flows take place as well. In order to protect this heritage and to protect national security, we have developed the ATR 72MP, an aircraft, equipped with the most modern security and surveillance systems made by Leonardo-Finmeccanica. "

The contract signed in 2014 calls for the delivery of 4 ATR 72MP, to be completed in the course of 2017. The contract includes logistical support services.

The aircraft, developed and produced by Leonardo-Finmeccanica based on the ATR 72-600 platform is designed for several missions: maritime patrol and ISR of surface ships, SAR (search and rescue), combating drug trafficking , piracy & smuggling, monitoring and intervention in case of ecological disasters and territorial waters protection . It is fitted with the latest communication systems and can transmit and receive information in real time with the command and control centers on the ground or on platforms, both in flight and on the sea, for the coordination and the maximum effectiveness of the operations.

The mission system is the latest version Airborne Tactical Observation and Surveillance (ATOS) developed by Leonardo-Finmeccanica. The aircraft is fitted with a Star Safire EO system by FLIR and the Seaspray 7300 EASA radar by Selex ES. 127/5000. P-72A are also equipped with self-protection systems such as decoy launchers, missile approach warning system and laser countermeasures.